TINY TIM TOMATOES
By David Marks
Tiny Tim has been bred specifically to be grown in containers. First offered to the public in 1945 it has remained a very popular variety ever since. Its parents are Window Box and Red Currant.
It grows very well on windowsills inside houses and offices. If it is grown outside it needs to be in a protected, warm position well out of the way of strong winds. The maximum height we have ever seen it grow to is 45cm / 18in although normally it is 40cm / 16in tall. By nature it tends to grow more tomatoes than foliage and when in "full fruit" it looks very attractive.
BUSH OR CORDON?
Tiny Tim is grown as a bush tomato and requires no pruning other to remove excess foliage and foliage which is covering the fruits.
APPEARANCE AND TASTE OF TINY TIM TOMATO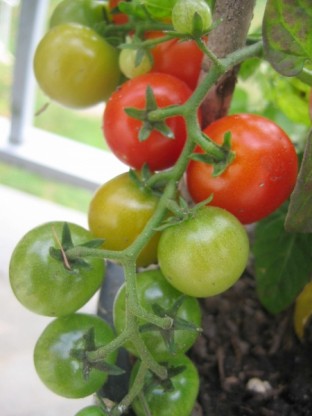 The tomatoes are bright red and true cherry tomato size (3cm / 1in in diameter), one bite and they are gone! Kids will love them. It tends to produce a heavy cop and some branches may need a little support. The cropping period is shorter than many varieties lasting about a month. The skin can be slightly thick but nothing to be concerned about. Flavour is about average for a cherry tomato.
Because of their small size they will do well in pots which are only 25cm wide, many people grow them in hanging baskets. They will need frequent watering especially in warm weather.
For all the tomato varieties which we have fully reviewed, click the drop down box below, select a variety and then click the More Information Button.
SUMMARY CHARACTERISTICS OF TINY TIM
F1 OR OPEN POLLINATED?: Tiny Tim is open pollinated and will grow true from saved seed. Click here for clear instructions and even clearer pictures on how to save seeds from Tiny Tim tomatoes.
GROWTH TYPE: Bush type, needs minimal pruning
WHERE TO GROW: Outdoors, on windowsills and also in a greenhouse.
USE: Salads, and by itself
SKIN COLOUR / TEXTURE: Deep red, medium thin skin
FLESH COLOUR: Red
TASTE AND TEXTURE: Moderately sweet, normal texture
STORAGE: Average ripening ability on a window sill
TOMATO SIZE: Cherry tomato sized, 3cm / 1in in diameter per fruit
REGULARITY OF CROPPING: Regularly produces a good yield
AWARDS: None
SPECIAL FEATURES: Reliable
WHEN TO SOW TINY TIM SEED
The key dates for sowing and planting out Tiny Tim tomato seeds are given below.
The dates displayed below are correct for the UK average. If you want them to be even more accurate and adjusted for your area of the UK click here. It only takes a minute and the adjustment affects every date in this site and lasts for six months.
Sow seeds in pots indoors

Second week of March

Pot up young plants

Second week of April

Harden off young plants

First week of May

Plant out young plants

Third week of May
WHEN TO HARVEST TINY TIM TOMATOES
This variety is a bush type tomato and if they are pruned in that way you can expect to be picking your first Tiny Tim tomatoes in the last week of July
BUYING TINY TIM SEED / PLANTS IN THE UK
Seeds for this variety are available from many online seed merchants and a few garden centres although garden centres frequently do not stock it. They tend not to be available from the discount stores and supermarkets. The cheapest seeds for this variety we could find this year was at
Nicky's Nursery.
Tiny Tim is also sometimes available as pot grown tomato plants. Taking into account postage it is probably cheapest and easiest to buy them from your local garden centre.
If you need any more information on growing this variety, click here to go to our main tomato page.
Other varieties which may also be of interest include:
COMMENTS / QUESTIONS LEFT BY OUR READERS
Sometimes our readers ask specific questions which are not covered in the main article above. Our
Outdoor Tomatoes comment / question and answer page
lists their comments, questions and answers. At the end of that page there is also a form for you to submit any new question or comment you have.