HOW TO GROW SUMMER STRAWBERRIES
By David Marks
Strawberries are a relatively easy crop to grow and they produce very tasty fruit quickly. This article will show you how to plant them, ongoing care, propagation, pests and diseases and our strawberry growing calendar.
Summer-fruiting strawberries produce fruit from early June to very early August depending on the variety grown. Weather conditions and the climate in your area of the UK also greatly influence when strawberry fruits are produced.
Other pages on strawberries are shown below:
CALENDAR FOR GROWING STRAWBERRIES
Not so many years ago strawberries were supplied as bare-rooted runners or potted plants. They are still the most popular methods today but nowadays misted tip plants are becoming more popular. Another alternative now commonly available is cold-stored runners. The calendar below gives dates for all four methods and a full explanation of the methods can be found lower down this article in the section entitled "When and Where to Buy Strawberry Plants".
| | |
| --- | --- |
| Misted Tip Plants | Plant late July to mid-August |
| Runners | Plant late September to October |
| Potted Plants | Plant April to early May |
| Cold-stored runners | Plant April |
| Add Mulch | When fruits form – May |
| Feed, Water | Feed in spring, water ongoing |
| Harvest | June to early August |
| Prune | April to just after fruiting |
| Propagate | June to July |
| Crop Rotation | Replant after 3 seasons |
WHICH VARIETY OF STRAWBERRY IS BEST?
The simple answer to that question is there is no "best" strawberry variety it's a matter of "horses for courses". In other words some varieties taste great, some have good disease resistance, some are large, some are small etc.! We list below commonly available strawberry varieties in the UK with their good and bad points, you can then make the comparison and choose which one is best for you. The varieties are listed in order of their cropping period and within that in alphabetic order.
RECOMMENDED EARLY CROPPING STRAWBERRY VARIETIES
CHRISTINE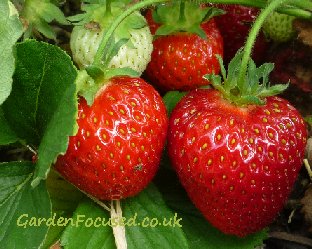 Cropping: early to late June, large crop of fruit
Taste: Sweet and delicious
Texture: Firm
Appearance: Largish bright red fruits
Disease Resistance: Excellent, resistant to Verticillium Wilt and Mildew
RHS AGM: No
Comments: Stores well and doesn't bruise easily. Our favourite early cropper.
HONEOYE
Cropping: mid June to early July, large crop of fruit
Taste: Not as sweet as some
Texture: Firm
Appearance: Orange-red to red, large conical fruits
Disease Resistance: Good but low resistance to Verticillium Wilt
RHS AGM: Yes, 2004
Comments: Grows well in Northern UK areas
VIBRANT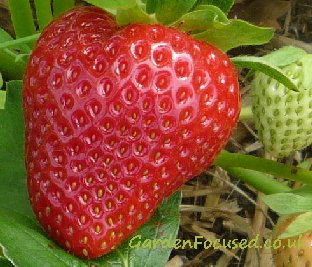 Cropping: early to late June, large crop of fruit
Taste: Top of class! Sweet and aromatic
Texture: Firm
Appearance: Largish red fruits, very few sub-standard fruits
Disease Resistance: Good, resistant to Mildew and Crown Rot but low resistance to Verticillium Wilt
RHS AGM: No
Comments: Bred by East Malling Research, release in 2011
MID-SEASON CROPPING STRAWBERRY VARIETIES
ALICE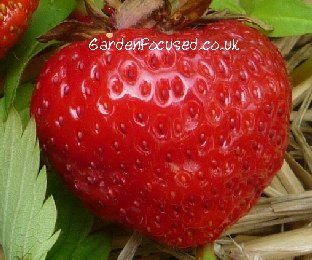 Cropping: mid June to mid July, large crop of fruit
Taste: Very sweet and rated highly
Texture: Juicy
Appearance: Medium to large bright red fruits
Disease Resistance: Very good
RHS AGM: Yes 2006
Comments: Does well all over the UK from Scotland to the South
CAMBRIDGE FAVOURITE
Cropping: late June to mid July, medium crop
Taste: Sweet, full of real flavour
Texture: Juicy and soft
Appearance: Medium to large bright red fruits
Disease Resistance: Very good
RHS AGM: Yes
Comments: Doesn't store well but the taste makes up for that
PEGASUS
Cropping: late June to late July, large crop of fruit
Taste: Sweet and full of flavour
Texture: Juicy and soft
Appearance: Medium to large bright red fruits
Disease Resistance: Excellent, no weaknesses
RHS AGM: Yes 2006
Comments: Does better than most on clay
LATE SEASON CROPPING STRAWBERRY VARIETIES
JUDIBELL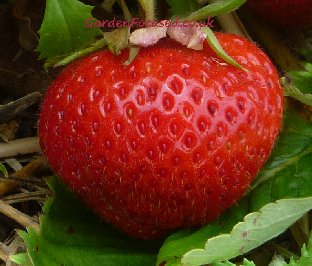 Cropping: Late July to early August, medium cropping levels
Taste: Very sweet, slightly lacking in flavour
Texture: Firm initially but does not store well
Appearance: Slightly small than normal fruits with a red, glossy skin
Disease Resistance: Prone to mildew
RHS AGM: No
Comments: A very late variety which waits until mid May to spring into life
FLORENCE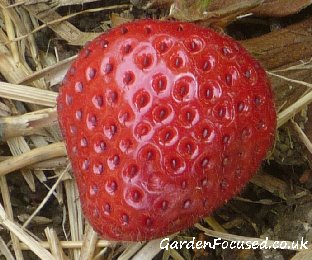 Cropping: early July to mid July, crops well
Taste: Sweet and rated highly for flavour
Texture: Firm but softens if not picked on time
Appearance: Medium sized fruits with a deep red, glossy skin, darkens slightly as it matures
Disease Resistance: Good resistance to fungal diseases
RHS AGM: No
Comments: Pick regularly to avoid the fruit softening and taking on a brown tinge.
SYMPHONY
Cropping: mid July to late July, medium cropping
Taste: Sweet and rated highly
Texture: Firm
Appearance: Medium fruits with a deep red, glossy skin
Disease Resistance: Good
RHS AGM: No
Comments: Withstands rainfall better than most.
FIND OUT MORE ABOUT STRAWBERRIES BELOW
COMMENTS / QUESTIONS LEFT BY OUR READERS
Date: 05 April 2021
From: Julie
QUESTION: : I am in a new house but it is in an exposed spot. My greenhouse doesn't come until later this year. For the strawberry plants in pots I have, would they be better in a semi shaded protected area or full sun but at the mercy of the wind?

ANSWER: If your plan is to plant the strawberry plants in the greenhouse when it arrives, I would keep the potted plants in a semi-shaded, protected area. It probably won't make much difference because strawberry plants are very tough.
Date: 31 March 2021
From: David H
QUESTION: : Just received here in London bare root strawberries. Should I plant them out now or later in April. If the latter how can I store them?

ANSWER: Strawberry plants are as tough as old boots and will easily withstand several degrees below 0C.
Plant them now, they will survive and be the better for being planted out.
Date: 28 March 2021
From: David B
QUESTION: : I'm wondering what soert of quantity of strawberries I would have with 3 separate varieties – Christine, Alice and Pegasus. We are in Yorkshire Thank you PS. C n I grow all or some in a greenhouse where we have a fertile soil

ANSWER: As far as quantities are concerned I can only give comparative amounts:
Christine – above average
Alice – above average
Pegasus – above average
An average crop per plant is about 375g.

As for growing in a greenhouse, it's not a good idea to plant them in the ground – pots maybe. The problem with strawberries is that from autumn to late winter they need a period of cold temperatures (chill period). Without this they will not produce a good crop.

By planting in pots in a greenhouse the pots can be placed outside after fruiting until late the next winter.
Date: 18 March 2021
From: Mary
QUESTION: : I bought some strawberry runners during last year's lockdown, I think they came around May time. I planted them in a wooden planter but nothing grew. There isn't much happening with them this year either – should I give up and dig them out or is there still time for them to sprout?

ANSWER: If nothing happened last year with the plants, I personally would assume that not much will happen this year either. I personally would abandon them.

If you want to be certain, wait till May this year and if you don't have a crop then consign the plants to the compost heap.
Date: 25 February 2021
From: Anon
QUESTION: : I planted two varieties of strawberry plants in autumn and now in Feb the one variety is showing signs of growth and the other variety appear dead with brown crowns and no foliage. Is this normal for strawberry plants at this time of year or should I consider them dead? Do some varieties come out of dormancy later than others.

ANSWER: Different varieties do start to grow at dfferent times. Definitely give them until the end of March before considering them dead.
Date: 28 July 2020
From: Sean
QUESTION: : What feed should I give to my strawberry plants in the start of August?

ANSWER: Strawberry plants grow best in nutrient poor ground. All that is required is a handful of blood, fish and per square metre in late March. If you feed them much more they will grow lush green leaves which leave them open to infection.
Date: 19 June 2020
From:
Alice
QUESTION: : I have a potted strawberry plant, where do I put it in winter? I don't have a greenhouse only a shed, would this be too dark and cold?

ANSWER: Strawberry plants are much hardier than most people realise. I definitely would leave it outside, in a protected position. If it can be placed against a house wall that would be ideal. The shed is definitely not a good idea. The same advice applies to strawberries in hanging baskets.
Date: 4 June 2020
From: Eric
QUESTION: : I have planted my strawberry plants in individual pot. They are sending out runners. Do you cut them off or do they produce strawberries. Ive not planted strawberries before. I aim to plant them in garden at end of harvest. Is that wise?

ANSWER: Strawberries send out runners to propqagate themselves. If the runner touches soil it will often root and produce a new plant for next year. If you don't need new plants, cut the runners off as near to the mother plant as possible. In your case it seems you don't need any more this year, so cut the runners off, they will not produce strawberries this year. Strawberries produce a slightly better crop when planted in the garden rather than pots. So, yes, do plant them in your garden. Make sure you keep them well watered until autumn. After then, natural rainfall will be sufficient.
Date: 22 May 2020
From: Ryan
QUESTION: I planted my Elsanta strawberries at the beginning of May and have all ready started to produce fruit, can these be eaten now or should they be removed and thrown. New to planting and want to make sure as everywhere else is saying they shouldn't produce a crop until June to August time.

ANSWER: Normally Elsanta have ripe fruit in mid July but that does depend on your climate.

You don't say if the fruit are ripe or not. If unripe they can still take a month or so to become ripe. Whatever, I certainly wouldn't throw them away, you won't get any more fruit this year if you do that. Eat them when they are ripe is my advce.
Date: 23 February 2019
From: None Given
QUESTION: is it necessary to start a new strawberry bed every three years? Or can I just thin the bed I have which has no sign of disease but has become very crowded. Its about four years old

ANSWER: It's really up to you. On average, if you replace your strawberry plants every three years you should be OK. Maybe you can stretch it to four or even five years. But be aware, if your strawberry plants suffer from disease next year, it may well be the case that you can't plant strawberries in the same area for three years or so without risking a crop failure.
Date: 8 August 2017
From: Leyla
QUESTION: I have read the above, but I'm still very confused as I'm an absolute beginner and have no idea how to plant strawberries. I have bought 200 Strawberry "Four Seasons" Seeds and it has arrived in a sealed packet. It is now early August. Should I place in the freezer now for 2 to 4 weeks or plant straight away? Is there any guidance you could point me to please as I didn't see 'four seasons' in the options above. Thanks in advance.

ANSWER: The strawberry article I wrote advises against growing strawberry plants from seed. Germination rates are low, the young plants are tender and prone to frost damage. The fruits you get may not be true to type. For those reasons I have never grown from seed.
Date: 8 September 2016
From: Lynn M
QUESTION: Hi there, when it says plant runners in September. What does this mean. I am brand new to gardening.

ANSWER: Strawberry plants send out stems which lay on the ground, these are called runners. Where the stem has a growing point (node) it will put down roots into the ground. Each of these rooted stem points is an individual strawberry plant which can be grown on. See our page for a detailed explanation with pictures.

Strawberry plants can also be bought from garden centres and online. Planting ones you have grown yourself from runners or shop bought ones is exactly the same. See our page on planting new strawberry plants.
Date: 3 September 2016
From: Nigel
QUESTION: I'm taking strawberry runner from plants in polytunnel now, can I plant them straight into grow bags for an outside row next year?

ANSWER: Unless you live in some of the coldest parts of the UK, the runners should have time to establish themselves this year. The only problem may be that they are in grow bags which are exposed to the cold and wind. I suspect this won't be a problem because I have done the same thing in Warwickshire with no problems.
Date: 6
August 2016
From: Not Given
QUESTION: Do strawberries cross pollinate?

ANSWER: As far as I know they do but this is only important if you attempt to grow strawberry plants from seed. The fruits and the runners from a plant will be unaffected by cross-pollination. Only the seeds (which are on the outside of the strawberry fruits) will be affected.
WHY NOT LEAVE YOUR QUESTION / COMMENTS ABOUT THIS PAGE?
ENTER THEM BELOW. EMAIL ADDRESS IS OPTIONAL.
YOUR COMMENTS WILL BE ADDED ABOVE WITHIN A FEW HOURS.