HOW AND WHEN TO PLANT SUMMER STRAWBERRIES
By David Marks
Nowadays it is quite possible to buy strawberry plants in spring, summer and autumn, it all depends on the growing method used to produce them. Runners are the traditionally cheap method but cold-stored runners and misted tip plants are also available.
We explain the each of the four options available to you, when they they are normally for sale and the various advantages and disadvantages of each method.
Other pages on strawberries are shown below:
As far as when to plant your strawberries, our advice is simple, plant them as soon as you can after receiving or buying them. Normally a reputable supplier will only sell strawberry plants when the time is right (for the majority of the UK) to plant them.
If conditions are unusually bad, runners and cold stored runners can be temporarily planted in slightly moist general purpose compost in a cool area for a few days until the weather returns to normal. Potted plants (including misted tips) can be stored in a cool area for a week or two with no problems.
First, prepare the ground as described in the section "Where To Plant Strawberries". Most ground prepared in that way will have sufficient nutrients in it for planting new strawberry plants but to make sure add a good handful of blood, fish and bone or similar long-lasting fertiliser per square metre / yard if using pot plants in spring. See "Ongoing Care" for details of feeding annually.
The next basic principle is that strawberries grow best in ground which is well drained, they do not like water-logged areas or where water is likely to collect. If they are grown in wet conditions the crown of the plant becomes more likely to be infected with fungal diseases and rot.
CORRECT DEPTH FOR PLANTING STRAWBERRY PLANTS
Whichever layout is used all strawberry plants should be planted so that the ground just covers the roots but leaves the majority of the crown above soil level. Plant the crown too low and the moisture in the ground will rot it, plant it too high and the top of the roots will be open to the elements. The picture below is of the top part of a runner ready for planting illustrating the correct depth for planting strawberry runners and cold-stored runners. Potted plants should be planted to the same depth they are in the pot.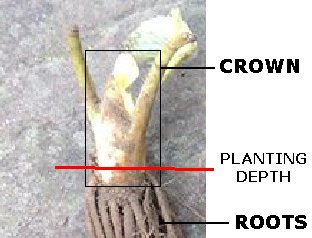 PLANTING STRAWBERRY PLANTS IN ROWS
To allow maximum drainage the soil should be shaped in a slight hump by drawing up soil from the sides or adding more to the centre. The top part of the hump should to be flat and wide enough for one or two plants depending on how many you are planting. The diagram below explains the shape required clearly, it is a cross-section through the length of the row.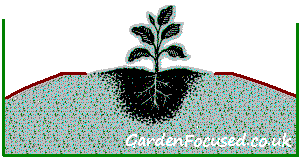 Note that the centre of the row is relatively flat but the sides slope off slightly. Each plant should be 40cm / 16in apart. If you have more than one row allow at least 45cm / 18in between rows so that you room to walk between the rows.
PLANTING STRAWBERRY PLANTS IN BLOCKS
Many people don't have room for a long row of strawberries but do have room for a block of them. If this is your plan make sure that the size of the block allows you to easily get to the fruit at harvest times. Plants should be spaced 40cm / 16in apart. When planting draw up a small amount of the surrounding soil so that the individual plants are on soil a couple of centimetres higher than the surrounding soil. This will ensure that after watering for the first few times that the water doesn't puddle around the crown of the plant.
FIND OUT MORE ABOUT STRAWBERRIES BELOW
COMMENTS / QUESTIONS LEFT BY OUR READERS
Date: 23 December 2016
From: A. Kempster
QUESTION: Can I transplant strawberry runners from a poly tunnel to open ground and when?

ANSWER: The ideal time to plant out strawberries is autumn or spring. In your case, Iwould wait unitl mid-March before planting out your runners from a polytunnel. They may need to be potted up into a larger pot in mid-February time if they are actively growing.
WHY NOT LEAVE YOUR QUESTION / COMMENTS ABOUT THIS PAGE?
ENTER THEM BELOW. EMAIL ADDRESS IS OPTIONAL.
YOUR COMMENTS WILL BE ADDED ABOVE WITHIN A FEW HOURS.