HOW TO BUILD A RAISED BED
Raised beds can be built out of many materials such as wood or bricks and in a large variety of shapes. In practical terms a rectangular or square shape probably makes the best use of space. It is also very practical allowing access to all parts of the raised bed.
However, if you want a centre piece for your garden then other shapes will give better visual results.
This picture gallery of raised beds is by no means exhaustive but we hope it gives you some ideas for your garden. If you are not really up to making your own raised beds from odd bits of wood, bricks etc then the solution is to buy pre-packed and pre-drilled raised beds.
We have compiled comprehensive data about various raised garden bed retailers and present these in a one page comparison chart which can be found by clicking here.
Click on any of the pictures below if wish to see a larger version.
Loose Bricks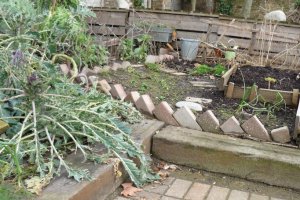 If you lack any bricklaying skills but like bricks then don't despair! This gardener is building a two tier raised bed by simply laying the bricks on the ground. This type of raised bed will last forever and require no maintenance. The bricks can be laid flat or on end to give more visual appeal.
Wood and Bricks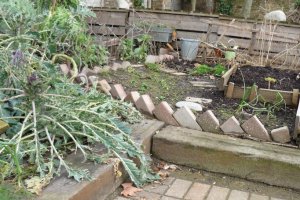 This gardener has used a mixture of railway sleepers and bricks set at a diagonal to give more height. If you enlarge the picture you will see that a basic path has been created through the raised bed to avoid compaction of the soil.
Metal Raised Bed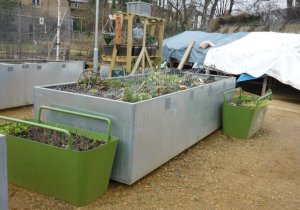 An interesting arrangement of large and small raised beds. This great for those with back problems because the raised bed is so high. We reckon this looks good but for more colour, the metal exterior could be painted.
Reclaimed Wood Construction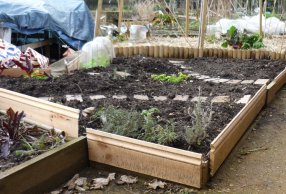 Ok, so this raised bed might not look the best but the materials are reclaimed skirting boards. An extremely cheap solution!
Covered Raised Bed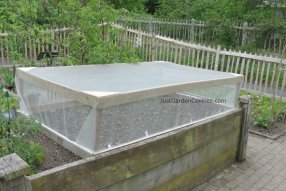 Click on the picture above to see a simple way to cover a raised bed. This will stop insect attacks and most cats.
Ultimate Home Made Raised Bed
All the information and pictures for this "ultimate" raised bed garden have been supplied by Euilleam Ross to whom we are very grateful. Euilleam is an OAP whose age will not be disclosed. But at the time of writing he is somewhere between 75 and 77 years old. The construction and planning of this covered raised bed is all his own work. He lives in the Scottish Highlands so gets full use of the covered raised bed. If you click here you will be taken to more pictures of Euilleam's raised bed garden work as it is in April.
High Raised Bed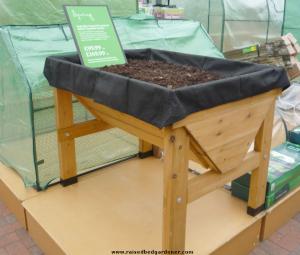 We saw this raised bed at Wyevale's. The beauty of this raised bed is that it can be placed near the back door to make picking herbs or small vegetables really easy. It comes in two sizes, 1m square (£99.99) or 2m x 1m at £149.99.
Wooden Posts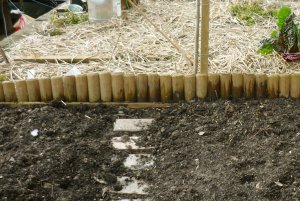 The beauty of this simple solution is that the wood posts can be varied in height to make a simple square shape more interesting.
Linked Wood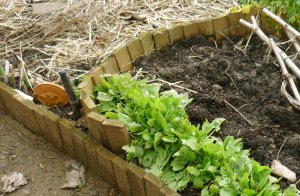 Click the picture to see a larger version and you will notice that the individual pieces of wood are held closely together by wire nailed to each piece of wood. This will keep the wood pieces close together and reduce loss of soil.
Whatever Wood is Available!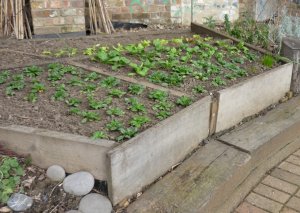 This wood is a mixture of ply board and solid wood. If cost is important to you then visit the local junk yard to look for offcuts of wood to make your bed from. Areas of this raised bed have been separated by cheap wood laid on the surface.
Basic Timber Bed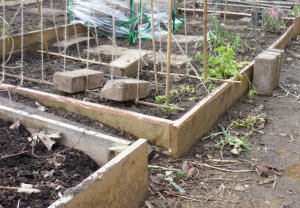 This is a basic raised bed made from timber bought from a timber merchant. If you accept the sizes they supply then this is a very easy option to construct.
Railway Sleepers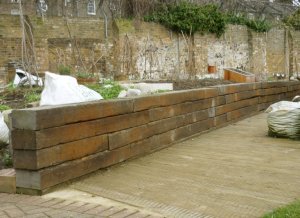 This is a solution beyond our means because the railway sleepers are expensive. But they will last for many many years and have that rustic look which suits many gardens. Build them as high as you want and your budget allows!
The King of Raised Beds!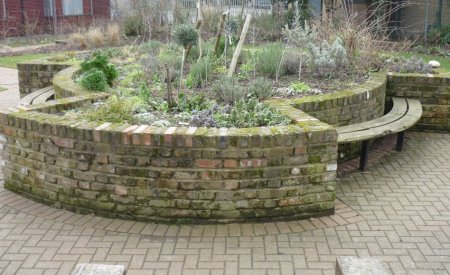 This is a work of art in the world of raise beds. The shape requires excellent bricklaying skills. A bench has been built in as well. If you intend to live in your house for many years and have the garden space then this raised bed is almost an investment. It will still be there in 50 years time.
Lots of Raised Beds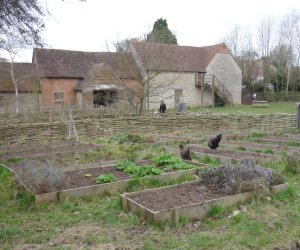 The above picture is from Mary Arden's House in Stratford. It shows a large area of land given over to several raised beds.
Lots of Small Raised Beds – Hinged?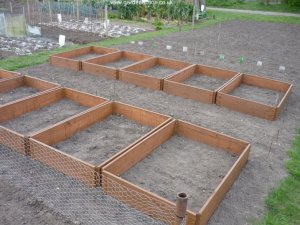 The above picture shows lots of small raised beds spotted on an allotment. They appeared to be built from lengths of shelving. What was most interesting was that the lengths were hinged. The owner wasn't there for us to ask questions but it could be that these beds might have the ability to be closed up (because of the hinges) for easy winter storage.
An interesting idea which would extend the life of the raised beds considerably.
READER COMMENTS AND QUESTIONS
19 February 2016
From: Rose
What a fantastic site, lots of tips and ideas, the frost table is very helpful, Thank You for taking the time to do this and for sharing your knowledge.
29 August 2013
From: Stevie
The hinged beds are actually sections of pallet boxes. I intend to use some of these myself in my first attempt at raised beds. I have never done anything like this in my life before and this site is excellent for beginners like myself. Thanks Stevie.
08 April 2013
From: Not Given
Is there a standard build on raised beds for disable allotment holders in a community allotment?
ANSWER: There is no standard size for raised beds on allotments. However, for practical purposes you need to able to reach to the middle of the raised beds from both sides.
13 January 2013
From: Not Given
Great ideas.
01 March 2013
From: John
Thank you for the ideas. John.
19 March 2013
From: Not Given
Excellent examples.
ADD YOUR COMMENT OR QUESTION BELOW ABOUT THIS PAGE. IT WILL BE ADDED ABOVE WITHIN 12 HOURS
Click one Rating Below To Rate this Page: