GARDENERS DELIGHT TOMATOES
By David Marks
Gardener's Delight is the most widely grown tomato variety as far as the amateur gardener is concerned. It's also very popular in the supermarkets.  There are two key reason for the popularity of this variety, and the first is how easy it is to grow. Not only does it tolerate a wide variety of soil and weather conditions but it regularly produces a heavy crop. The second reason is taste – most people like the taste and the texture.
BUSH OR CORDON?
Gardener's Delight is most definitely a cordon (indeterminate) variety of tomato which means it will grow best if pruned during the growing season.
Confusion sometimes occurs because it is often grown as a bush type. It does very well when grown this way. The key difference is that when trained as a cordon it produces slightly larger tomatoes and slightly earlier compared to being grown as a bush.
APPEARANCE AND TASTE OF GARDENERS DELIGHT TOMATO
In recent years we have noticed that the size and taste of Gardener's Delight tomatoes has become rather hot and miss. There is a belief among many growers of this variety that the original strain has been severely compromised. The results vary year by year and on who the supplier is.
One article from the Irish News (click here) goes into depth about Gardener's Delight tomatoes and does seem to conclude that they have changed over the years..
We stopped growing this variety a couple of years ago because of poor results but we do understand that many other growers are still happy with the results of Gardener's Delight.
For all the tomato varieties which we have fully reviewed, click the drop down box below, select a variety and then click the More Information Button.
SUMMARY CHARACTERISTICS OF GARDENERS DELIGHT
GROWTH TYPE: Cordon, can also be grown as a bush
F1 OR OPEN-POLLINATED: Open pollinated, saved seed will come true to type. Click here for clear instructions and even clearer pictures on how to save seeds from Gardeners Delight tomatoes.
WHERE TO GROW: Outdoors does very well, can also be grown in a greenhouse.
USE: Salad tomato, smaller ones can be eaten on their own
SKIN COLOUR / TEXTURE: Red glossy skins with a smooth texture
FLESH COLOUR: Red
TASTE AND TEXTURE: Good sugar content, balanced with trace acidity. Juicy and medium firm. Gardeners Delight has a Brix rating of 7.0 for sweetness.
STORAGE: Can be picked green ripens well on a window sill
TOMATO SIZE: Conventionally slight larger than a cherry tomato but see text above. Individual tomatoes weigh about 28g / 1oz.
REGULARITY OF CROPPING: Regularly produces a good yield. Each truss will produce 10 to 14 tomatoes and an average of 70 to 80 tomatoes per plant.
AWARDS: RHS AGM
SPECIAL FEATURES: The most commonly grown variety amongst amateur gardeners. The ultimate all rounder.
WHEN TO SOW GARDENERS DELIGHT SEED
The key dates for sowing and planting out Gardeners Delight seeds are:
Sow seeds in pots indoors

Second week of March

Pot up young plants

Second week of April

Harden off young plants

First week of May

Plant out young plants

Third week of May
WHEN TO HARVEST GARDENERS DELIGHT TOMATOES
This variety is a cordon type tomato and if they are pruned in that way you can expect to be picking your first Gardeners Delight tomatoes in the first week of August Often they are given little or no pruning and in this case they will produce fruit a couple of weeks later.
GARDENERS DELIGHT GROWING NOTES
This section shows Gardeners Delight tomato plants at various stages of development.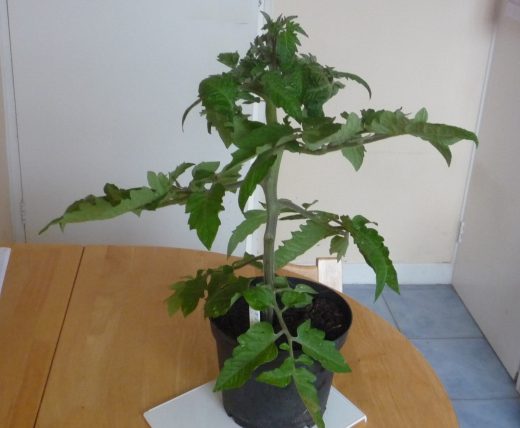 The picture above shows the plant in late May just before planting outside. It is about 45cm / 18in high with a relatively thick and well-developed main stem.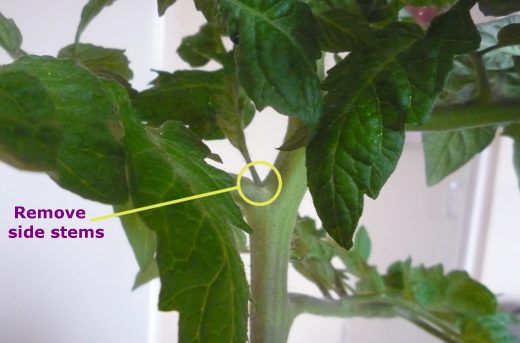 During previous growth and just before planting out the side stems will be removed. If left on the plant will become crowded and put effort into growing foliage rather than fruit. To remove the side stems simply bend them back and they will snap off. For more details see our page on pruning cordon tomato plants here.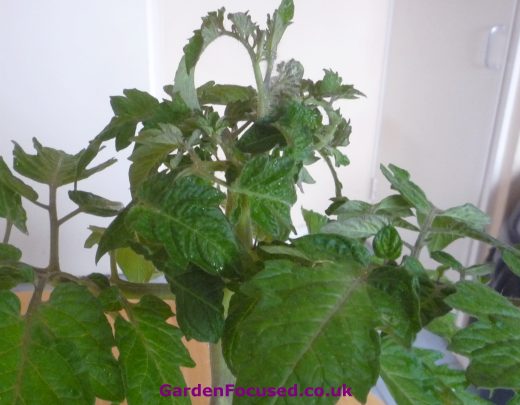 The top crown of a Gardeners Delight tomato plant often looks crowded and slightly distorted compared to other varieties when the growing. This is quite normal. Just to be sure, check the leaves for signs of aphids which can also cause a similar appearance.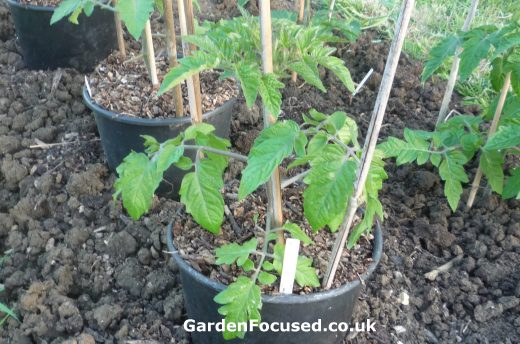 Above is the recently planted tomato plant. This variety is equally suitable to being grown directly in the ground, in pots, grow bags or a cool greenhouse. From this point onwards we prune away any side stems which have leaves touching the ground. This helps to prevents diseases from the soil and splash back onto foliage when it rains heavily.
BUYING GARDENERS DELIGHT SEED / PLANTS IN THE UK
Seeds for Gardeners Delight are available from almost all online seed merchants, garden centres, diy stores and several of the supermarkets. The cheapest are probably Aldi or Wilkinson's. For example Wilkinsons are charging 78p for 75 seeds. There is no advantage we can see to paying the high prices charged in many garden centres and some online seed suppliers.
Gardeners Delight is also widely available as pot grown tomato plants. Taking into account postage it is probably cheapest and easiest to buy them from your local garden centre.
If you need any more information on growing this variety, click here to go to our main tomato page.
Other varieties which may also be of interest include:
COMMENTS / QUESTIONS LEFT BY OUR READERS
Sometimes our readers ask specific questions which are not covered in the main article above. Our
Outdoor Tomatoes comment / question and answer page
lists their comments, questions and answers. At the end of that page there is also a form for you to submit any new question or comment you have.