MAHONIA FOR THE UK GARDENER
Article by DavidMarks
Mahonia are evergreen shrubs and most, but not all, are fully hardy in the UKtolerating cold as far down as -15°C. The more common varieties such as Mahonia media 'Charity'grow to a height and spread of 2m / 6ft but there are smaller varieties, some even beingdescribed as ground cover. Sometimes called Oregon Grape. Yellow flowers are produced in Novemberto February / March often followed by black berries.
They do have some very specific requirements so consult the listbelow to see if they are correct for you and your garden conditions:
They prefer partial to full shade, by nature they are adapted to woodland conditions.

Grow well in a variety of soil conditions including clay, chalk and even sand.

When grown in open ground they only require watering in extremely dry conditions.

Mahonia tolerate neglect well mainly because their nutrient requirementsare low and they grow well with minimal pruning.

Most produce attractive flowers, all are evergreen.

They rarely suffer from pests or diseases unless completely neglected.

They are not suitable for growing in containers.

An annual prune is sufficient to keep them in check though do check our section belowon pruning Mahonia with details of how best to do this.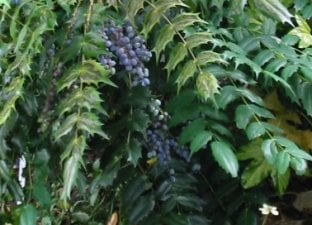 HOW TO CARE FOR A MAHONIA
Mahonias are very low maintenance shrubs but a small amount of attention will ensure that they perform to the best of their abilities. The following care plan will help them do just that:
An annual mulch with well rotted garden compost in September will keep weeds down and help prevent the ground freezing in winter.

Mahonia should not be fed nitrogen rich fertilisers, they don't respond well to that. But they will appreciate a feed in April with a handful of
blood, fish and bone scattered around them and gently worked into the ground.

Established Mahonias should only be watered in very dry periods. Water well if needed but not often.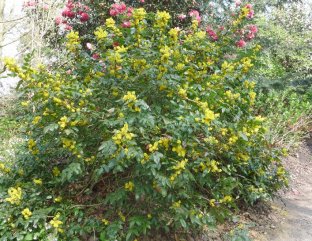 PRUNING MAHONIA
An annual prune will do yourMahonia a power of good. It will keep the plant to a reasonable size prevent crowding the centre.
Mahonia can be pruned at any time of the year without damaging the plant. The best time however is soon after they finished flowering, generally March to April time. This will give them the best chance of producing flowers later in the year.

Mahonia should be allowed to grow to near their full height before pruning, the both look and grow better as tall plants. Do not try to prune them into a mound shape, this is not a natural growth shape for them.

The following is guide to the height when you should begin to annually prune your Mahonia


Mahonia x media 'Charity' / 'Lionel Fortescue' – 2.5m / 8ft
Mahonia x media 'Winter Sun' – 3.5m / 11ft
Mahonia japonica – 1m / 3ft
Mahonia aquifolium – 1.5m / 5ft


Thin out about a quarter of the older stems in the centre of the plant, cutting them back to 15cm / 6in from the central trunk.

Prune back any of the outer stems to keep the plant to a manageable size.
MAHONIA PESTS AND DISEASES
Mahonia are very healthy plants but they do suffer from a few diseases in particular.
MAHONIA RUST
All varieties of Mahonia can be affected by rust but Mahonia aquifolium an bealei are the worstaffected. The Latin name for this fungus is Cumminsiella mirabilissima. The symptoms aredeep red small marks on the top of the leaves. If you turn the leaves over they will have brown,rust coloured powdery marks on them.
Rust spreads in humid conditions where there is little ventilation. Treatment of rust on Mahoniaconsists of the following:
Regularly pick up and burn all leaves on the ground around the plant.

If the centre of the plant is congested prune it as suggested above toallow better air circulation.

Spray with a fungicide designed to combat rust on plants.
POWDERY MILDEW ON MAHONIAS
The symptoms are irregular brown marks on the tops of the leaves, with a light grey fungalgrowth on the undersides of the leaves. Lower leaves are more affected compared to leaveshigher up the plant. This is caused by a fungus The causes arecold soil, bad air circulation and damp conditions. The only cure is to avoid those conditions.You may need to move your plant to a sunnier position. Eventually the disease will kill yourMahonia if not attended to. Read our in depth article onpowdery mildew for much moreinformation.
Other "easy-care" shrubs in this series include
Choisya, Skimmia,
Mock Orange, Lilacs,
Potentilla and
Rose of Sharon (hibiscus syriacus).
DIFFERENT VARIETIES OF MAHONIA
There are many varieties of Mahonia grown in the UK but only about four are commonly sold ingarden centres.
Mahonia x media 'Charity'
Height and spread
4.5m / 14ft
Leaf colour
Glossy green, evergreen
Flowers?
Yellow flowers produced in November to February followed by black berries
Growth Habit
Upright and bushy
Frost Hardy?
Hardy in the UK
Containers / rockeries
No
Awards
None
Buy Online?
We recommend
Crocus
Mahonia x media 'Wintersun'
Height and spread
3m / 10ft
Leaf colour
Glossy green, evergreen
Flowers?
Yellow flowers with a delicious scent from November to March then black berries. The best flowers of the lot!
Growth Habit
Upright and bushy
Frost Hardy?
Hardy in the UK, copes well even in sun
Containers / rockeries
No
Awards
RHS AGM
Buy Online?
We recommend
Crocus
Mahonia aquifolium
Height and spread
1.5m / 5ft
Leaf colour
Light green tinged with reds, evergreen
Flowers?
Dense yellow flowers in November to February
Growth Habit
Upright and bushy, excellent as a specimen plant for smaller gardens
Frost Hardy?
Hardy in the UK.
Containers / rockeries
No
Awards
None
Buy Online?
We recommend
Crocus
Mahonia japonica
| | |
| --- | --- |
| Height and spread | 1.5m / 5ft |
| Leaf colour | Dark green leaves, evergreen |
| Flowers? | yellow flowers from November to February |
| Growth Habit | Upright and bushy |
| Frost Hardy? | Hardy in most parts of the UK. |
| Containers / rockeries | No |
| Awards | RHS AGM |
MAHONIA SUMMARY
Below we list the key strengths and weaknesses of Mahonias.


| | |
| --- | --- |
| HARDY | (to -15°C) |
| | |
| CLAY SOIL | Yes |
| | |
| SANDY SOIL | Yes |
| | |
| DRY SOIL | No |
| | |
| SHADE | Yes |
| | |
| EVERGREEN | Yes |
| | |
| EASY CARE | |
| | |
| SMALL GARDENS | Some varieties |
| | |
| POT / CONTAINER | No |
| | |
| FLOWERING | |
| | |
| FLOWER TIME | November to February |