LILAC TREE CARE FOR THE UK GARDENER
Article by DavidMarks
Your lilac care guide below shows you at a glanceall the key steps you need to take, and when to carry them out,for the perfect flowering shrub in your garden. Although almostindestructible, they will not produce their best show of flowersunless they are looked after and pruned correctly. The differencebetween a well looked after lilac tree and one which just gets byis obvious and they are well worth the minimal effort.
All dates in the calendar below can be customised to your area of the UK (clickhere to do this) or they will be accurate for average UK weather conditions.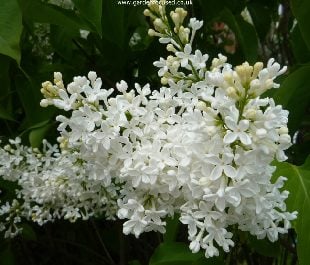 White lilac tree flower, click to enlarge it.
To clear up any confusion, there is no difference between a lilac bush and alilac tree, they are the same plant just called by different names.
The lilac care calendar below is based on the most commonly found type oflilac in the UK, Syringa vulgaris, but it is also correct for manyother species of lilacs including Syringa myeri. Some lilacs flower two weeks earlier, including Syringa x hyacinthiflora varietiesand these are often referred to as early flowering lilacs. Others flower twoweeks later in the season including Syringa x josiflexa varieties.
CARE CALENDAR FOR LILACS
Feed withblood, fish and bone – Fourth week of April
Remove flower buds on newly planted lilacs – First week of May
Remove fading flowers to prevent them setting seed – Last week of May
Prune lilacs to improve flowering in later years – As soon as the flowers fade
Grow new lilacs by taking semi-ripe cuttings – As soon as the flowers fade
Cut out any suckers – Mid June onwards
Plant new lilacs – Mid September
FEEDING AND WATERING LILACS

There should be no need for watering an established lilac unlessyour soil is very light. Their root system is extensive and they go down ametre or more into the ground.
If you have a recently planted lilac howeverit is a good idea to keep the soil moist with hand watering in the summermonths. After a year or two they will be more than able to find enough water for themselves.
For established and newly planted lilacs they will benefit if you feed themonce a year with three handfuls of blood, fish and bone sometime around the fourth week of April 2015. Sprinkle the feed around the soil at the edges of the canopy of the tree where new roots will be able to benefit from it. At the same time spread a layer of mulch (grassclippings are ideal) around the base of the tree (but not touching the stems) to a depth of 8cm /3in to conserve moisture and provide trace elementsas it rots down.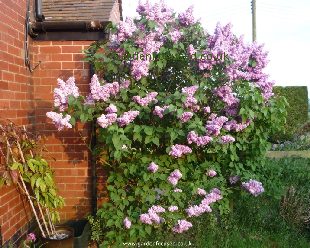 A mauve lilac tree, click to enlarge
REMOVE LILAC FLOWERS AND SUCKERS
When the flowers start to die off after flowering spend a few minutes removing them. The flowers stems should be clipped off with a pair of secateurs. This will stop the plant putting effort into making seeds and also free up the branches and stems from dead and decaying flowers.
At the same time (and whenever you have a few minutes later in the season)take a look at the base of the tree for any
suckers which appearthrough the soil surface. For lilac trees three years old and more these shouldbe cut away as close to the ground as possible, a few centimetres below if atall possible.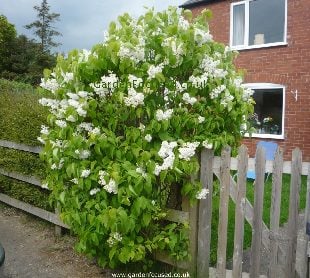 White flowered lilac, click to enlarge
If you planted a new lilac tree in the previous year then in its first year, before it flowers, remove all the forming flower buds. This will help the plant establish a good root system early on ready for better flower production in later years.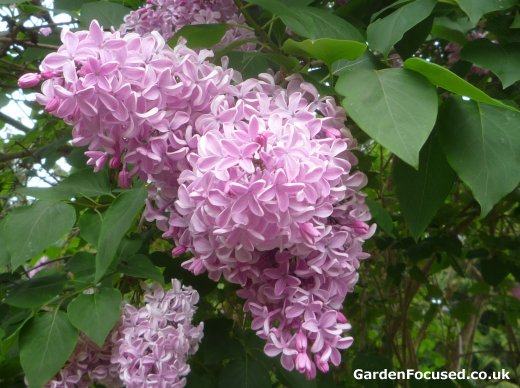 Closeup of lilac 'Buffon'
WHEN AND HOW TO PLANT A LILAC TREE / BUSH

Lilacs have no special requirements for planting compared to most other hardy shrubs. The key steps are as follows:
Choose a position which has sun for more than half the day, a southor south west facing position is by far the best

Avoid a site which becomes water-logged

Lilacs prefer a soil which is neutral to slightly alkaline. See ourarticle on crop rotationfor more information on acid and alkaline soils.

Allow for the size of the your lilac tree when it is mature. Thereare some dwarf varieties but in general the spread and height will be inthe region of 3m / 10ft.

Dig a hole slightly wider than the root ball and to the same depth.Your lilac tree should be planted to the same depth as it came in thepot. Infill with well dug soil and firm down to remove air pockets.Water well to provide moisture and settle the soil down.

Lilacs are best planted in autumn when the ground is moist but stillrelatively warm. Spring is also a good time but avoid periods offreezing weather. If you plant your lilac tree at other periods of theyear, water well in dry periods until the plant has become established.

Lilacs are strong growing plants and will withstand most weatherconditions in the UK. They are frost hardy down to -15°C/ 5°F.
HOW TO PRUNE LILACS

Lilacs can grow without any pruning but in time they become leggy with the flowers only being produced at the top of the shrub. Your complete guide to pruning lilacs can be found here.
BEST PLACES TO SEE LILAC TREES

If you are choosing a lilac tree then you may want to see some of them growing in gardens and collections around the UK. Below we list some of the best locations.


NATIONAL LILAC TREE COLLECTION
Unfortunately there is no longeran official national Lilac Tree Collection. Up to 2009 it was held at WithdeanPark in Brighton. Cost cutting over the years resulted in the lilacs beingneglected and in 2009 the "National Collection" status was removed. The parkstill has a very good collection of lilacs however and is well worth a visit, entryis free to all.
THE LILAC GARDEN KEW ROYAL BOTANICAL GARDENS
Probably the best place in the UK to see well-cultivated and documented lilacs. An entrance charge applies.

GOLDEN ACRE PARK, LEEDS
A well kept collection of lilac trees in a park setting. Entrance is free.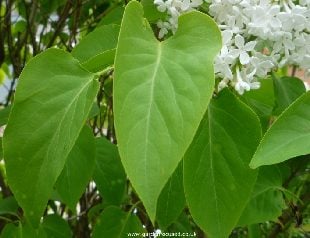 Lilac tree leaf close-up, click to enlarge
Other "easy-care" shrubs in this series include
Choisya, Hebes, Mock Orange,
Skimmia, Potentilla and
Rose of Sharon (hibiscus syriacus).
LILAC SUMMARY
Below we list the key strengths and weaknesses of Lilacs.


| | |
| --- | --- |
| HARDY | (to -18°C) |
| | |
| CLAY SOIL | Yes |
| | |
| SANDY SOIL | Yes |
| | |
| DRY SOIL | No |
| | |
| SHADE | Partial, full sun |
| | |
| EVERGREEN | No |
| | |
| EASY CARE | |
| | |
| SMALL GARDENS | No |
| | |
| POT / CONTAINER | No |
| | |
| FLOWERING | |
| | |
| FLOWER TIME | Winter berries (female plants) |