DOYENNE DU COMICE PEAR TREE
By David Marks
If you want a slice of pear tree history but at the same time want top quality eating pears then Doyenne du Comice should be top on your list. It is a typical French style pear with fruits that almost melt in your mouth. The flavour is everything you could want from a pear, sweet but full of real fruit flavour
This is a variety which produces fruit late in the season making it an ideal choice if you already have early or mid season varieties.
HOGGS FRUIT MANUAL
Hoggs Fruit Manual dates back to the 1880s but as far as pear trees are concerned there is no other source of information which provides more useful information on what we now call Heritage varieties of pears. For this reason we quote below the relevant entry from that book in its entirety below. Click here to skip this information to go to our own unbiased review of this variety of pear tree further down this page.
"Fruit, large, three inches wide and three and a half half inches high; pyrimidal and obovate, sometimes rather uneven in its outline. Skin, lemon-yellow, with a greenish tinge, considerably coloured with speckles and patches of pale brown russet and particularly so around the eye and the stalk ……. Flesh, yellowish white, very tender, buttery and melting, very juicy, rich, sweet and delicately perfumed with a sort of cinnamon flavour.
A most delicious pear, in use in the end of October and continuing throughout November. M.Andre Leroy recommends that to preserve this as log in use as possible it is necessary to gather it early and dry; and after placing it in the fruit-room to handle it as little as possible.
The tree is a healthy grower and a very good bearer. It forms handsome pyramids on the quince. Mr R. D. Blackmore writing from Teddington says 'This is, to my mind, the best of all pears; very healthy, a certain cropper, of beautiful growth and surpassing flavour. I have grown it to the weight of 14oz on heavily cropped trees but on a wall it is far inferior.' Writing from the Weald of Sussex Mr. Luckhurst of Oldlands says 'It is a most delicious pear, very sweet, rich melting and juicy'."
If that hasn't convinced you of the merits of Doyenne du Comice then read on!
PARENTAGE OF DOYENNE DU COMICE
The parents are not known for this variety. It was bred in France at the Garden of Comice Horticole in Angers in the 1840s. Soon after it was introduced to England.
APPEARANCE, TASTE AND CHARACTERISTICS OF DOYENNE DU COMICE
The pears are average to slightly large with a dumpy-looking shape which is often irregular. The skin is a green-yellow colour with some rusetting. When you hold it in the hand it feels quite heavy because of the high water content.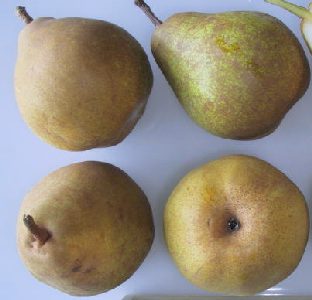 Doyenne Du Comice pear.
Rated very highly by all experts of pears, the taste is sweet and very full, everything you want from a pear. The flesh is very soft and melts in the mouth with no hint of crunchiness.
Fruit is produced late in the season (see below for average expected dates) and Doyenne Du Comice should be harvested when the pears are slightly under-ripe. See here for detailed information on when to harvest pears. This variety is no different from others, after harvest it should be stored in cool conditions after harvest and bought inside the house for a couple of days prior to eating.
This is not a variety for growing in exposed situations it appreciates a reasonable level of warmth and protection from winds. Having said that it has grown well for us in the West Midlands so it's not that picky about heat.
POLLINATION PARTNERS FOR DOYENNE DU COMICE PEARS
Doyenne Du Comice (pollination group 4) is self-sterile so to produce fruit you need one of the following other varieties nearby:
Beth (pollination group 3)
Beurre Bosc (pollination group 4)
Brandy (pollination group 4)
Clapp's Favourite (pollination group 3)
Concorde (pollination group 3 to 4)
Conference (pollination group 3)
Humbug (pollination group 3)
Moonglow (pollination group 3)
Packham's Triumph (pollination group 3)
Sensation (pollination group 3)
Williams Bon Chretien (pollination group 3)
Winter Nelis (pollination group 3)
HOW TO PRUNE DOYENNE DU COMICE PEAR TREE
The normal rules for pruning a pear tree apply to Doyenne Du Comice.
The final height and spread of a mature (seven year old) Doyenne Du Comice pear tree will depend on the rootstock used, soil and growing conditions. Averages are as follows:
Quince C rootstock (semi-dwarfing) 2.5m to 3m (8ft to 10ft)
Quince A rootstock (semi-dwarfing) 3m to 4m (10ft to 13ft)
Pyrus c. rootstock (natural size) 6m to 8m (20ft to 27ft)
More information about growing pear trees including planting, feeding, watering, mulching, harvesting and pruning can be found on our page here.
The primary use for Doyenne Du Comice pears is for eating only, it will disintegrate if cooked.
BUYING DOYENNE DU COMICE PEAR TREES
Doyenne du Comice is available in larger garden centres and those which specialise in fruit trees. It is not normally available in supermarkets and diy centres. They are also widely available online.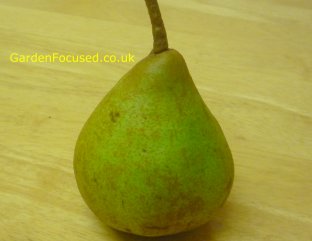 Our recommendation for a reputable online supplier with a five year guarantee would be Crocus. They have served us well and supply healthy, good sized trees which are extremely well packaged. These are dwarf trees with an eventual height of 3m / 10ft. Click here for their page on Doyenne du Comice pear trees with a five year guarantee.
SUMMARY CHARACTERISTICS OF THE DOYENNE DU COMICE PEAR TREE

USE: Eating only
SKIN COLOUR / TEXTURE: Green / yellow / light brown sometimes with a pink tinge on the sun-facing side.
FLESH COLOUR: White
TASTE AND TEXTURE: Sweet, deep pear flavour, soft and melting texture
FRUIT SIZE: Slightly larger than average
SUITABILITY FOR FAN / ESPALIER GROWTH: We would not recommend this
TREE SIZE: Average
REGULARITY OF CROPPING: Good
CROPPING TIME: Third week of October.

POLLINATION: Flowering Group 4 (RHS classifications), self-sterile, see text above for suitable pollination partners

DIPLOID / TRIPLOID? Diploid

ROOTSTOCKS: Best in most conditions on Quince A rootstock. If soil conditions, nutrients and water supply are good it will also grow well on Quince C rootstock which will restrict its size slightly.

AWARDS: Award of Garden Merit from the Royal Horticultural Society in 1993 and reconfirmed in 2013.

PROPAGATION: We know of no restrictions to propagating this variety of pear.

SPECIAL FEATURES: Top quality taste and texture

FLOWERING AND FRUITING TIMES:
The average flowering time (optimum time for pollination) and date when fruits are ripe in the UK for the Doyenne Du Comice pear tree are set out below. If you have set your home town we can give you a more accurate estimate, if you have not set your home town (do it now by clicking here) the dates below will be the average for the UK.
Your town has not been set, the average main flowering time for Doyenne Du Comice in the UK is the last week of May. Fruit will be ready for picking in the third week of October. Click here if you want to set the dates to your home town.
FLOWERING AND FRUITING TIMES: The average flowering time (optimum time for pollination) and date when fruits are ripe in the UK for the Doyenne Du Comice pear tree are set out below. If you have set your home town we can give you a more accurate estimate, if you have not set your home town (do it now by clicking here) the dates below will be the average for the UK.
Flowering and fruit picking dates vary according to the weather in any particular growing season so the above dates may well change slightly from one year to the next. The flowering date above is when the pear tree produces the maximum number of blossoms, it will also produce blossom, although less, a week or two either side of the date given.
The fruit from Doyenne Du Comice should be harvested when it is just under-ripe because they ripen best off the tree. In practice, wait till a few pears drop off the tree of their own accord and then harvest the remaining pears over a couple of weeks. They are ready for picking when they can be easily pulled off the tree. To ripen them fully, take them into the house (not on a window sill) at normal indoors temperature. They will be ready to eat after two to three days. To store longer keep them in a cool dark place such as a garage, shed or the fridge. For more details on harvesting pears click here.
COMMENTS / QUESTIONS LEFT BY OUR READERS
Date: 2 March 2017
From: Eric
QUESTION: Can you grow 2 doyenne comice together?

ANSWER: Yes you can but they will not pollinate each other and therefore you may get no fruit. For pollination to occur you need a suitable pollination partner of a different variety. Common pollination partners for Doyenne Du Comice are Concorde, Conference, Beth and Beurre Bosc.
Date: 6 September 2016
From: Mark
QUESTION: Looking at a number of sites on the subject of pollination of Doyenne Du Comice it seems a wide variety of thinking applies from none to specified varieties only. Does it or not need a pollinator? does it depend on what the climate is like? or how much of a crop you expect? I have a Nashi orchard mostly Hosui V and it does not need any pollinator or introduced bees.

ANSWER: Doyenne du Comice is self-sterile and needs a pollination partner. Whatever else you have read is incorrect. Self sterile is a general term and does not indicate that a few pears may be produced.

Of course, some varieties are suitable pollination partners and some not.

As far as Asian pears are concerned they can pollinate normal pears if the flowers are produced at the same time. However research is not readily available to indicate how this compares with normal pears pollinating normal pears. Tread very carefully before hoping that Asian pears will be suitable pollination partners for Doyenne du Comice.
WHY NOT LEAVE YOUR QUESTION / COMMENTS ABOUT THIS PAGE?
ENTER THEM BELOW. EMAIL ADDRESS IS OPTIONAL.
YOUR COMMENTS WILL BE ADDED ABOVE WITHIN A FEW HOURS.