CONFERENCE PEAR TREE
By David Marks
Conference pears date back to 1884 when the variety was found as a seedling of the variety Leon Leclerc de Laval, the female parent. Conference shares many of the characteristics of its "mother" which unfortunately is no longer available in the UK.
It is the most widely grown pear tree variety in the UK because of its cropping reliability, good disease resistance and self-fertility. Taste and texture are also good.
PARENTAGE OF CONFERENCE
The female parent is Leon Leclerc de Laval, the male parent is unknown. First discovered 1884, it was taken forward by T. Francis Rivers of the Rivers Nursery of Sawbridgeworth which sadly went out of business many decades ago. The variety was formally named Conference in 1895 at the British Pear Conference, hence the name.
APPEARANCE, TASTE AND CHARACTERISTICS OF CONFERENCE
The shape is cone like and individual pears are larger than average. The skin has lots of light brown russet to it although this can be minimised by ensuring a good water supply for a couple of months immediately after flowering. Skin colour is light brown with a green background which sometimes, but not always, turns to yellow as the pear ripens. The flesh is cream coloured.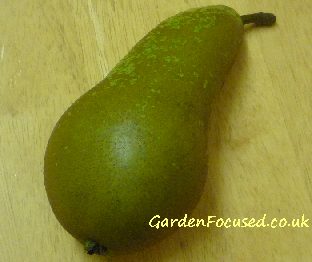 Conference pear.
The taste of Conference pears is very dependant on the ripeness when it is eaten. Unusually for a pear it is often eaten just before it is fully ripe. At this stage it still has crunch to it and the taste is slightly acidic. When fully ripe, the flesh is pleasantly soft and juicy with lots of sweetness.
One of the great advantages of Conference pears is that they keep for for a long time when stored at a cool temperature. The commercial growers store them at -1°C / 32.2°F in a carbon dioxide saturated atmosphere. The nearest the average gardener can get to this is in the fridge where they will keep until January.
Fruit is produced late in the season season (see below for average expected dates) and Conference should be harvested when the pears are slightly under-ripe. See here for detailed information on when to harvest pears. This variety is no different from others, after harvest it should be stored in cool conditions after harvest and bought inside the house for a couple of days prior to eating. When picked slightly under-ripe it serves well, not the best though, as a cooker, retaining its shape reasonably well.
Conference produces fruit on average a year earlier than average and reaches its maximum cropping potential when it is about six years old, starting to produce fruit from three years old. This variety of pear tree is likely to have a fully productive life of about 35 to 40 years if kept disease free, very similar to apple trees. The trees can live for many, many years after that but fruit production will gradually decline. This variety grows well in almost all areas of the UK.
POLLINATION PARTNERS FOR CONFERENCE PEARS
Conference (pollination group 3) is one of the most self-fertile all pear trees and will produce a good crop when grown on its own. However it can produce more fruit when planted  with one or more of the following other varieties nearby:
Beth (pollination group 3)
Beurre Hardy (pollination group 3)
Clapp's Favourite (pollination group 3)
Doyenne du Comice (pollination group 4)
Gorham (pollination group 4)
Humbug (pollination group 3)
Moonglow (pollination group 3)
Sensation (pollination group 3)
Williams Bon Chretien (pollination group 3)
Winter Nelis (pollination group
3)
HOW TO PRUNE CONFERENCE PEAR TREE
Most of the normal rules for pruning a pear tree apply to Conference. They grow well in most forms including espaliers, fans and cordons.
The final height and spread of a mature (seven year old) Conference pear tree will depend on the rootstock used, soil and growing conditions. Averages are as follows:
Quince C rootstock (semi-dwarfing) 2.5m to 3m (8ft to 10ft)
Quince A rootstock (semi-dwarfing) 3m to 4m (10ft to 13ft)
Pyrus c. rootstock (natural size) 6m to 8m (20ft to 27ft)
More information about growing pear trees including planting, feeding, watering, mulching, harvesting and pruning can be found on our page here.
The primary use for Conference pears is for eating but they can also be used for cooking.
BUYING CONFERENCE PEAR TREES
Conference is available in larger garden centres and those which specialise in fruit trees. It is not normally available in supermarkets and diy centres. They are also widely available online.
Our recommendation for a reputable online supplier with a five year guarantee would be Crocus. They have served us well and supply healthy, good sized trees which are extremely well packaged. These are dwarf trees with an eventual height of 3m / 10ft. Click here for their page on Conference pear trees with a five year guarantee.
SUMMARY CHARACTERISTICS OF THE CONFERENCE PEAR TREE

USE: Eating and cooking
SKIN COLOUR / TEXTURE: Russet areas light brown with a green background.
FLESH COLOUR: Cream
TASTE AND TEXTURE: Sweet and soft when ripe
FRUIT SIZE: Larger than average
SUITABILITY FOR FAN / ESPALIER GROWTH: Ideal
TREE SIZE: Average
REGULARITY OF CROPPING: Regular and crops well
POLLINATION: Flowering Group 3 (RHS classifications), self-fertile but does even better with a suitable pollination partner, see text above for suitable varieties.
DIPLOID / TRIPLOID? Diploid, good as a pollinator for other pear trees in flowering groups 2, 3 and 4
ROOTSTOCKS: Best in most conditions on Quince A rootstock. If soil conditions, nutrients and water supply are good it will also grow well on Quince C rootstock which will restrict its size slightly.
AWARDS: RHS AGM
PROPAGATION: We know of no restrictions to propagating this variety of pear tree.
SPECIAL FEATURES: An excellent all-rounder for growing in the UK. Will produce a crop on its own.
FLOWERING AND FRUITING TIMES: The average flowering time (optimum time for pollination) and date when fruits are ripe in the UK for the Conference pear tree are set out below. If you have set your home town we can give you a more accurate estimate, if you have not set your home town (do it now by clicking here) the dates below will be the average for the UK.

Your town has not been set, the average main flowering time for Conference in the UK is the last week of April. Fruit will be ready for picking in the last week of October. Click here if you want to set the dates to your home town.
Flowering and fruit picking dates vary according to the weather in any particular growing season so the above dates may well change slightly from one year to the next. The flowering date above is when the pear tree produces the maximum number of blossoms, it will also produce blossom, although less, a week or two either side of the date given.
The fruit from Conference should be harvested when it is just under-ripe because they ripen best off the tree. In practice, wait till a few pears drop off the tree of their own accord and then harvest the remaining pears over a couple of weeks. They are ready for picking when they can be easily pulled off the tree. To ripen them fully, take them into the house (not on a window sill) at normal indoors temperature. They will be ready to eat after
three to four days.
Conference pears are notoriously difficult to judge for ripeness. In our experience the skin frequently does not change colour at all when ripe. The trick is to press lightly on the neck of the pear with your fingers immediately after you pick them. There will be absolutely no "give" in the flesh. Keep them indoors for three days and try again. If you feel a slight "give" they are ripe so dive in and start eating! The "give" will not be great but it will be noticeable compared to the unripe fruit.
To store longer keep them in a cool dark place such as a garage, shed or the fridge. For more details on harvesting pears