CORNUS FOR WINTER INTEREST
Article by David Marks
There many types of Cornus (commonly known as Dogwood) but they can broadly be categorised as those grown for winter interest (the subject of this article) and those grown for their flowers (click here for more information). Winter interest dogwoods include varieties of Cornus alba, Cornus sericea and Cornus sanguinea which is native to the UK. They are grown almost exclusively for the beauty of their coloured bark which adds winter long interest to any garden.
Use the checklist below to decide if a winter interest Cornus shrub is suited to your preferences and garden conditions:
They loose their leaves in winter which exposes their stems in a range of bright colours from red to yellow

They are fully hardy in all areas of the UK.

All soils except dry conditions are suitable.It grows quickest in a slightly deep loam type soil although this is not essential. They do equally well in acid or neutral soil and will survive very damp conditions.

A winter Cornus prefers full sun although also does well in partial shade. Avoid full shade positions. The sun allows the deep colour of the stems to develop fully.

Once established, they rarely require watering and will tolerate moderate drought.

If left unpruned they reach a height of 6m / 19ft but most gardeners prune every year or to produce the maximum colour. At the regularity of pruning they normally reach a height of 2m / 6ft.

They can be planted singly but probably look best when two or three are planted together. Recommended planting distance is 60cm / 2ft apart to maximise their colour impact.

They can be grown as loose hedges (60cm / 2ft apart) but will not be dense enough to provide a barrier.

Pest and disease resistance is excellent.

Most definitely an easy care shrub requiring only a prune every year or two to keep it in shape.
DIFFERENT VARIETIES OF WINTER INTEREST CORNUS
We list below four readily available Dogwood varieties which we recommend.
Cornus alba Sibirica
The leaves turn red in autumn then fall off in winter to reveal the red stems. Small white flowers are produced in June time but the are hardly noticeable. Grows slightly shorter than many other varieties making it suitable for small gardens.
One of our top recommended varieties and it has won an Award of Garden Merit from the RHS. Height and spread are both about 2 metres at maturity in 7 years time.
Cornus sanguinea Midwinter Fire
A beautiful winter shrub with stems that vary from orange at the base and mid section to red at the top. This is a native of the UK. This is not a quick grower so we would recommend only pruning a quarter of the stems down to ground level every year or so. Height and spread are both about 2 metres at maturity in 8 years time.
Cornus alba Baton Rouge
The picture of this Cornus variety below says it all. The slim stems start off red and deepen to a bright scarlet in winter. When mature it reaches a height of 2m / 6ft.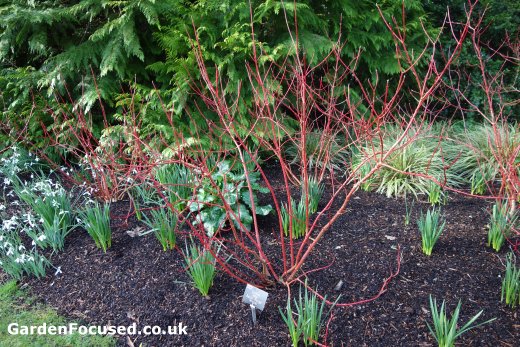 Scarlet stems of Cornus alba Baton Rouge
Cornus sericea Flaviramea
The stems of this variety are olive green. Relatively slow growing, looks good when grown next a red stemmed variety. It has won an Award of Garden Merit from the RHS. Height is about 2 metres and spread is about 3.5 metres at maturity in 7 years time.
WHERE TO BUY WINTER INTEREST CORNUS
If you want to buy online and have your plants delivered to your door, our recommendation for winter interest Cornus would be Crocus. They stock not only regular sized plants but also larger ones for instant effect. Click here to view these plants on their website. As well as online, many garden centres sell winter interest Dogwood however the choice of varieties is likely to be restricted.
HOW TO PLANT A CORNUS ALBA, SANGUINEA OR SERICEA
Follow the steps below to ensure your winter interest Cornus is planted correctly and in the best position:
Choose a full sun to partial shade position. The plant needs some air circulation so although it will thrive against a wall or fence, avoid planting it in the corner of two walls fences.

If the soil is heavy or is not free draining addlots of well rotted compost to the area and dig it in well.

It can be planted all year long if the soil is not frozen and you can water well when conditions are dry. Mid March to April and mid September to October are the best times to plant this shrub.

Dig a hole twice the width of the rootball. Sprinkle in a handful of blood, fish and bone and work into the ground.

Place the plant into the hole, filling in with soil so that it is at the same depth as was in the pot. Fill around the rootball and firm the soil down gently but firmly. Water well to settle the surrounding ground around the rootball.
If you want to grow winter interest Cornus as a hedge, individual plants should be about 60cm / 2ft apart.
HOW AND WHEN TO PRUNE WINTER INTEREST CORNUS
The key factor for having a good winter display is regular pruning. The brightest coloured stems are those which are one or two years old. Any older than that and the colour will noticeably start to fade. The next factor to take into account is that Cornus grown on fertile soil will grow quicker compared to the same plant on poor soil.
Pruning of winter interest Cornus is best done in late March. As a rule of thumb we we would recommend pruning every year by removing to ground level about a half of the stems, choosing the older looking ones. The remaining stems should be pruned to half their length. This will encourage new growth yet at the same time retain some of the structure of the shrub.
Newly planted Cornus are best left to their own devices for two or three years until they have established themselves well. They tend to be slow to establish but after two to three years they grow strongly
GROWING WINTER INTEREST CORNUS IN CONTAINERS
Dogwoods are not really suitable for growing in containers. The shrubs prefer moist soil all year round and this would be difficult to achieve in a container. The plants are also quite large so would require a very large container.
PESTS AND DISEASES OF WINTER INTEREST CORNUS
Winter interest Cornus are immune to Cornus Anthracnose. Few other problems affect them although the most common is described below.
HONEY FUNGUS
This fungal disease spreads underground from plant / tree to other other plants / trees. It attacks the root system and causes it to gradually be unable to absorb moisture and nutrients. The key signs are a generally unhealthy plant with white fungus appearing near ground level on the stems. If you dig carefully to roots under the ground the white material will be clearer on the roots.
In all likelihood your cornus will not be the only shrub affected, other shrubs are more susceptible. We suggest you research this disease online / in books because it is extremely difficult to eradicate. Often the only course of action is to dig up and burn the affected shrubs and plant those which are resistant to honey fungus.
WINTER INTEREST CORNUS SUMMARY
Below we list the key strengths and weaknesses of winter interest Cornus.


HARDY
(to lower than -20°C / -4°F )
CLAY SOIL
Yes
SANDY SOIL
Yes if improved
DRY SOIL
No
SHADE
No, partial, full sun
EVERGREEN
No but stems provide winter interest
EASY CARE
SMALL GARDENS
Yes
POT / CONTAINER
No
FLOWERING
insignificant butwi

nter interest stems

FLOWER TIME
Not relevant
COMMENTS / QUESTIONS LEFT BY OUR READERS
Date: 6 December 2019
From: Diana W
COMMENT: I had a cornus sibirica Alba for many years, growing happily in a dark corner, but it succumbed to a hugefungus and died off.

So, a couple of years ago, I bought a 'Midwinter Fire' and three 'Winter Flame' (for the reddest possible stems), which are growing away very welland have just been repotted for the third time.

The red trio are intended for large planters that I can set across the garden in winter, to boost the view from the house, but are still notdense enough to stand separately.

The single one, I've positioned in front of the border where the old one was, again to improve the winter view.

Since the colour in the stems emerges when the sap stops rising (and they green up again when it begins to rise), I find that – once the dogwoodsare mature enough to prune – the best way to keep the colour is to prune them hard back and then stand the bunches of cut stems inopen-topped pipes o.n.o., among other pots. That preserves the impression of colour, although the colours darken over the months.

Cornus 'Alba' stems root so easily that I've often found one that was cut some months earlier, rooting when used as a stake for something else.
Date: 11 June 2018
From: Carol
QUESTION: After pruning the new growth on my cornus is not red, I wanted these for winter colour sowould appreciate your help to diagnose how I can get them red again.

ANSWER: They will go red of their own accord. When theweather cools in autumn they will begin to deepen in colour to red. At the sametime the leaves will start to fall off exposing the red stems in winter.
WHY NOT LEAVE YOUR QUESTION / COMMENTS ABOUT THIS PAGE?
ENTER THEM BELOW. EMAIL ADDRESS IS OPTIONAL.
YOUR COMMENTS WILL BE ADDED ABOVE WITHIN A FEW HOURS.