DESIREE POTATO
By David Marks
The Desiree potato is very versatile in more ways than one. Firstly it can be cooked in all the common ways except as a salad potato and for some reason doesn't steam well. But boil, mash, chip and roasting are all fine. The second versatility factor is that it can be treated as a normal maincrop as far as harvest times are concerned and can also be treated as an early maincrop if you need potatoes earlier in the season. Leaving them in the ground longer simply results in larger potatoes.
PARENTAGE
The parents of Desiree are Urgenta x Depesche
APPEARANCE, TASTE AND CHARACTERISTICS OF DESIREE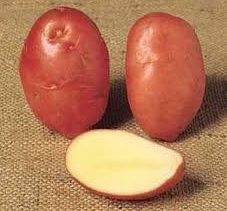 The Desiree potato
The Desiree potato originated from Holland in 1962 and is generally grown as a maincrop potato. When grown this way it can produce very large potatoes. However it can also be treated as an early maincrop potato because it bulks up early in the season, this will allow harvest two to three weeks earlier than normal and the potato size will be very respectable.
This is a very versatile potato as far as cooking goes and when boiling it stays in one piece better than most. The Italians discovered Desiree in the early 1970s and over the last ten years it has achieved protected status when grown in the Italian village of Colfiorito. They even hold an annual red potato festival there – I wonder how many of the tourists who visit that area realise that they are really eating a plain Desiree potato!
Desiree grows well in most of England and Wales but doesn't do so well in Scotland for some reason where it can be rather watery and bland. Disease resistance is good with eelworm being the only weakness.
POSITIVE POINTS FOR DESIREE
For cooking purposes (other than salad potatoes), Desiree is hard to beat as a chip, baked, roasted boiled or mashed. Undeniably it looks good with its light red, glossy skin. It has a much longer cropping period compared to other varieties and can be treated equally well as an early maincrop or as a normal maincrop.
NEGATIVE POINTS FOR DESIREE
Eelworm resistance is low is about the major disadvantage of this variety.
BUYING DESIREE SEED POTATOES IN THE UK
Desiree are the most popular maincrop potatoes for growing in gardens and allotments in the UK and are therefore widely available in garden centres, online and in diy stores. They are also sold by some of the discount supermarkets at low prices – most years they appear in Lidl, Aldi, Wilkinsons and even Poundland from the middle of February.
We recommend buying your seed potatoes from certified suppliers because those sold in supermarkets for consumption can be a source of disease and pest. We would avoid buying them from online general retailers such as as Amazon or E-bay unless you know exactly who is supplying the seed potatoes.
Buying seed potatoes from the discount store can be a good deal but it can also result in a sub-standard crop. The discount stores take the second quality seed potatoes whereas the more specialist suppliers take the best quality. Unfortunately you will only find this out after you have carefully tended your crop for several months.
Suttons Seeds (a GardenFocused approved supplier) sell Desiree seed potatoes (and many other varieties) which are not only correctly certified but they are graded by size to avoid unduly small seed potatoes being sold. Click here for more information and to buy Desiree online. A 1kg bag will contain about 11 good sized seed potatoes.
ALTERNATIVES TO DESIREE POTATOES
The key qualities of this variety are a large yield of good tasting potatoes which can be harvested a couple of weeks early or allowed to fully bulk up in the ground. Another variety which crops well, and at the same time stores exceptionally well, is Valor although the potatoes are not as large as a mature Desiree. Consider also Estima which does produce larger than average potatoes.
For other potato varieties which we have fully reviewed, click the drop down box below, select a variety and then click the More Information Button.
The planting and harvest dates used below are correct for the UK average. If you want them to be even more accurate and adjusted for your area of the UK click here. It only takes a minute and the adjustment affects every date in this site and lasts for six months.
WHEN TO CHIT / SPROUT DESIREE POTATOES
In all the tests we have conducted and those we have researched, there is no detectable difference between maincrop potatoes which are chitted and those which are planted directly in the ground. However if you want to stick with tradition and chit your Desiree potatoes, we recommend that you start chitting / sprouting this variety in. the third week of February
This will give them four to five weeks to develop healthy sprouts just at the time when they are ready to be planted out. Keep the potatoes in cool but light conditions to ensure they grow short, green sprouts. Click here for our page dedicated to chitting / sprouting potatoes in the UK and Ireland.
WHEN TO PLANT DESIREE POTATOES
Desiree potatoes are early maincrop potatoes and they are ready for harvest, if conditions are correct, 17 to 18 weeks after the seed potatoes are planted. The key factor governing the time for planting all potatoes is the date of the last frost in your area. Even a touch of frost can damage potato plants if their foliage is above ground, an unexpected severe frost can kill them completely.
The date for planting Desiree seed potatoes can be calculated on the basis that seed potatoes will take four weeks before they appear above ground. Given also that you want them to appear above ground only when the danger of frost has passed (the last week of April is the UK average ) the last week of March is about right time to plant them.
WHEN TO HARVEST DESIREE POTATOES
The harvest date for all potatoes is not only dependent on when you plant your seed potatoes, it also depends on the weather conditions throughout the growing season. But on average you can expect your Desiree potatoes to be ready for harvest some time between the third week of July and the first week of August in your area of the UK.
PEST AND DISEASE RESISTANCE OF DESIREE POTATO
The table below sets out how good or bad Desiree potato plants are at resisting common pests and diseases in the UK. The 0 point is average with minus (red) values showing lower than average resistance and plus values (green) showing higher than average resistance.
-5
-4
-3
-2
-1
0
+1
+2
+3
+4
+5
Late blight – foliage

Late blight – tubers

Common scab

Powdery scab

Slugs

Potato Cyst Nematode
(pallida)
Potato Cyst Nematode
(rostochiensis)
Blackleg

Splitting

-5
-4
-3
-2
-1
0
+1
+2
+3
+4
+5
SUMMARY CHARACTERISTICS OF DESIREE
TYPE: Maincrop
USE: Excellent for all types of cooking except as salad potatoes.
SKIN COLOUR / TEXTURE: Red glossy skins with a smooth texture
FLESH COLOUR: Cream
TASTE AND TEXTURE: Low in water content, slightly waxy, excellent taste
STORAGE: Stores well
POTATO SIZE: Average as an early maincrop, grows to large if harvested as a maincrop
REGULARITY OF CROPPING: Regularly produces a good yield
AWARDS: None
SPECIAL FEATURES: The most versatile of all the maincrop potatoes