SEDUM SPECTABILE (ICE PLANT)
Article by DavidMarks
The technical name for this plant is Sedum spectabile although it is also known as the Ice Plant. Some (a very few) seem to think that it is called Hylotelephium spectabile but few in the UK recognise it by that name. To correctly classify it, it's an
herbaceous perennial and not really a shrub.
It can spread to 70cm and generally reaches a height of 50cm. The key interest of the plant is the beautiful flowers but the foliage is also very attractive in the correct setting. When the flowers first start to form they are light green colour which slowly turns to their final colour, in the case of Sedum Autumn Joy, a deep dark pink. The slow change in colour is a fascination to observe over a few months.
Use the checklist below to decide if a Sedum spectabile is suited to yourpreferences and garden conditions:
An herbaceous perennialwhich dies down in the winter and regrows the next spring.

It has a height of 50cm (20in) and a spread of 60cm (24in).

It is fully hardy in all areas of the UK withstandingtemperatures down to -20°C.

The main interest is from the flowers which are produced in August toOctober. The greyish leaves are thick and attractive in their own right.

It does well in light and free-draining such as sandy, chalky and lightloams. It does not like clay or heavy soils unless it has been improved to havegood drainage.

It definitely prefers full sun.

Once established, it very rarely requires watering and will toleratemoderate drought.

The flowers of Sedum spectabile attract butterflies and a number of otherinsects. This is especially welcome because it does this in late summer whenmany other flowering plants have died down.

Disease resistance is excellent with the exception of some possible problemswith slugs and snails. Even so, this is not one of their favourite plants.

It is maintenance free with one exception. That is preventing thefoliage and flowers from flopping over especially when it rains.
HOW TO PLANT A NEW SEDUM SPECTABILE
Follow the steps below to ensure your Sedum is planted correctly and in the best position:
Choose a full sun position. The plant needs some aircirculation so although it will thrive against a wall or fence, avoidplanting it in the corner of two walls fences.

Choose the soil conditions carefully. Sand, chalk or light loam soil whichdrains well is the key requirement. It's probably not worth planting in heavyclay soils even if it is improved. But by all means, prove us wrong!

It can be planted all year long if the soil is not frozen. Mid March to April and midSeptember to October are the best times to plant this shrub.

Dig a hole twice the width of the rootball. Sprinkle in a handful of
blood, fish and bone and work into the ground.

Place the plant into the hole, filling in with soil so that it is at the same depth as was in the pot. Fill around the rootball and firm the soil down gently but firmly. Water well to settle the surrounding ground around the rootball.
CARE OF SEDUM SPECTABILE
When established a Sedum Spectabile will look after itself. It almost never needs watering except in severe drought and will grow quite happily on average ground without the need of additional feeds.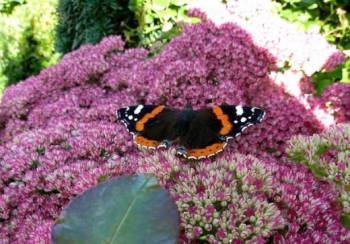 Sedum spectabile before reaching full colour
Picture courtesy of
Aberdeen Gardening
The main care it often needs is some help to stop the stems from spreading out from the centre. When this happens the centre looks bare and certainly does not improve the look of the plant. The first course of action is not to feed the plant with any nitrogen rich fertiliser. Sedums thrive on ground which is slightly low in nutrients.
You then have two options, and to a certain degree, that depends on the climate in your area. In warmer climates you will almost certainly find that pruning a sedum spectabile in late May is beneficial. Simply cut the top third of the plant away and leave it. It will flower a couple of weeks later than it would if left to its own devices but it will be a much sturdier and more attractive plant in the long run.
The second option which is probably best in cooler parts of the UK is to provide some support for the stems. It doesn't need to be substantial, and if strategically placed, it will be almost unnoticeable. A few wooden stakes with about 45cm / 18ins above ground will allow you to wrap some green coloured twine around the outer stems of the plant and provide them with enough support to stop the centre opening up.
In February, cut back the flower heads to almost ground level to keep the plant tidy and help to avoid any rot problems to the crown. In their first year the plants will not reach full size but the year after they will.
WHERE TO BUY SEDUM SPECTABILE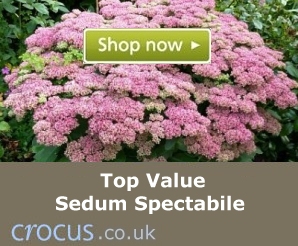 These plants are available in varying stages of development from almost allgarden centres and online plant suppliers.The online supplier we personallyrecommend for Sedum Spectabile is

Crocus.
Rather than where to buy, the real question is probably which variety to buy. We have to admit to being traditionalists when it comes to Sedum spectabile, our choice would always be Autumn Joy. Ours have always performed well and we never hear of others complaining about them.
You may find that 'Autumn Joy' is sometimes sold as 'Herbstfreude', at leastthat's our understanding. For sure the RHS thinks they are one and the sameplant so we'll take their word for it. This alternative name seems to originatefrom the continent but we doubt it will catch on here. Let's face it, Autumn Joysums up this plant perfectly.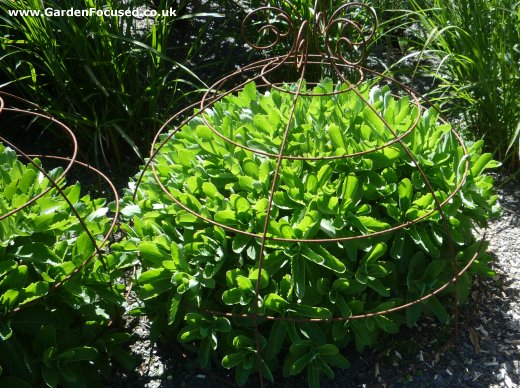 Sedum spectabile 'with support in place
The 'Brilliant' series of Sedum spectabile seems to be all the rage nowadays,as far as the garden centres are concerned anyway.
When you have bought one Sedum spectabile there should be no need to buyany more if you want more plants. They are ridiculously easy to propagate.We simply cut off a short non-flowering stem, make a small hole in theground, place the cutting in the hole, infill with soil and leave it to itsdevices.
SEDUM SPECTABILE SUMMARY
Below we list the key strengths and weaknesses of Sedum Spectabile.


| | |
| --- | --- |
| HARDY | (to -20°C) |
| | |
| CLAY SOIL | No |
| | |
| SANDY SOIL | Yes |
| | |
| DRY SOIL | Yes |
| | |
| SHADE | No, full sun only |
| | |
| EVERGREEN | No |
| | |
| EASY CARE | |
| | |
| SMALL GARDENS | Yes |
| | |
| POT / CONTAINER | Yes |
| | |
| FLOWERING | |
| | |
| FLOWER TIME | August to October |
COMMENTS / QUESTIONS LEFT BY OUR READERS
Date: 14/02/2021
From: Diana W
COMMENT: One can grow sedum spectabile 'Autumn Joy' in clay soil if that has verysharp drainage. I grow it at the outer edge of a terraced bed made with unmortared bricks, where it's been thrivingfor decades. (That's also the only place in this London garden where I can grow lavender in open ground.)
Date: 02/01/2016
From: Roy
QUESTION: My ice plant looks as if it is dying do I need to cut it back and should I water itat this time of year?

ANSWER: Don't water it at this time of year and don't feed it. If the plant has spread out fromthe centre, trim off a third of the foliage in May and remove any dead flower heads.
WHY NOT LEAVE YOUR QUESTION / COMMENTS ABOUT THIS PAGE?
ENTER THEM BELOW. EMAIL ADDRESS IS OPTIONAL.
YOUR COMMENTS WILL BE ADDED ABOVE WITHIN A FEW HOURS.