Expert Advice on Growing Gaultheria
Article by David Marks
Gaultheria procumbens makes an excellent evergreen shrub, growing to only 30cm / 1ft high. Small white / pink flowers in July and August then red berries into late autumn. The foliage turns reddish in winter. There are several forms of Gaultheria though procumbens is one of the easiest and most useful to grow in the UK. They originate from North America. It is sometimes known as the Checkberry plant.
Use the checklist below to decide if Gaultheria procumbens is the correct plant for you and your garden:
They are low growing spreading shrubs which reach a maximum height of 30cm / 1ft and an almost indefinite spread if left to their own devices. They can easily be controlled.

The green leaves are evergreen turning to a slight pink hue in winter.

In July they produce small, light pink flowers in varying amounts which last until mid August. These are then followed by attractive red berries which last until November.

They grow best in partial shade and tolerate full shade well. They do not do particularly well in full sun.

They prefer a slightly acid soil though a neutral one will do fine. They dislike alkaline soils.

Established plants require no attention other than an annual prune to shape. Pruning consists of taking a spade and digging up any spreading surface roots. A 15 minute job each year.

They are hardy down to -10°C so should survive well in winter for most areas of the UK.

They make excellent container plants with interest from July through to November.

Some parts of the plant can cause significant nausea if eaten. The berries however appear to be the least harmful part of the plant.

No specialist knowledge is required to grow them and they are rarely affected by pests or diseases.

HOW TO PLANT A GAULTHERIA PROCUMBENS
Follow the steps below to ensure your Gaultheria is planted correctly:
Choose a position in partial or full shade. The soil should be neutral to slightly acidic.

When planted directly in the ground they can spread without limit through shallow spreading roots. Allow at least 75cm / 2ft 6in for the plant to grow.

It can be planted all year long if the soil is not frozen and you can water well when conditions are dry. Mid March to April and mid September to October are the best times to plant.

Dig a hole twice the width of the rootball. Sprinkle in a handful of blood, fish and bone and work into the ground.

Place the plant into the hole, filling in with soil so that it is at the same depth as was in the pot. Fill around the rootball and firm the soil down gently but firmly. Water well to settle the surrounding ground around the rootball.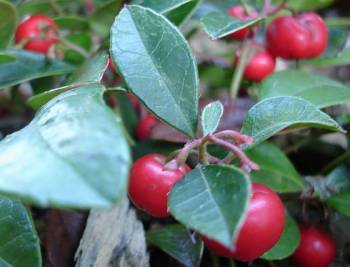 Picture Courtesy of John Delano, Indiana
CARING FOR GAULTHERIA
When established a Gaultheria procumbens will look after itself. It needs watering in dry conditions and we suggest that natural rainfall is best rather than tap water. It will grow quite happily on average ground without the need of additional feeds. Pruning is not required for the first three years. After that, dig up the shallow roots where it is beginning to spread too far. This can be done at any time of the year.
For younger plants up to two years old, water if conditions become dry. A twice yearly feed with blood, fish and bone in spring and autumn will help it to establish a good root system. Keep the area around the base of the plant free from weeds and grass. Clear leaves and other debris which falls on them. There are no common pests or diseases of this plant.
Gaultheria procumbens produces seeds which can be sown to produce new plants. It is self-fertile and only one plant is required to produce viable seed. Many other Gaultheria varieties are dioecious (require separate male and female plants to produce viable seeds). Gaultheria procumbens can also be propagated by semi-hardwood cuttings taken in August to September time with a good chance of success.
GROWING GAULTHERIA PROCUMBENS IN CONTAINERS
When first planting them use
ericaceous compost which is slightly acidic. After that treat them as normal.
The plant should be fed monthly between mid March to mid August with a handful of blood, fish and bone. It will of course require regular watering. Wait each time until the top 3cm of the compost is dry and then water well.
WHERE TO BUY GAULTHERIA PLANTS
Many garden centres sell Gaultheria especially from August to November when the attractive berries are present. They are also commonly sold online. Crocus sell these plants at a good price, in tip top condition and they have our personal recommendation.
GAULTHERIA PROCUMBENS SUMMARY
Below we list the key strengths and weaknesses of
Gaultheria.


HARDY
(to-10°C)
CLAY SOIL
Yes
SANDY SOIL
Yes
DRY SOIL
No
SHADE
Partial, full sh

ade

EVERGREEN
Yes
EASY CARE
SMALL GARDENS
Yes
POT / CONTAINER
Yes
FLOWERING
(also
has berries)
FLOWER TIME
July to August (berries September to November)
COMMENTS / QUESTIONS LEFT BY OUR READERS
Date: 16 February 2019
From: Keith
QUESTION: Can gaultheria be grown as houseplants?

ANSWER: Gaultheria can be grown as houseplants with care. They need lots of indirect sunlight (morning direct sunlight is fine) and are best kept on the cool side 60F / 16C for most of the time although they will withstand higher temperatures in the summer. Feed sparingly, Gaultheria as houseplants, thrive on neglect.
Date: 25 December 2016
From: Linda G
QUESTION: Can i water my gaultheria from the bottom?

ANSWER: Yes that's fine to do that. In most cases it's probably the best way to water.
Date: 2 November 2016
From: Christina G
QUESTION: Do birds like to eat the berries of the Gaultheria? Will the plant attract birds to my garden?

ANSWER: Birds are not particularly attracted to Gaultheria berries. They will eat them if they are very short of food.
WHY NOT LEAVE YOUR QUESTION / COMMENTS ABOUT THIS PAGE?
ENTER THEM BELOW. EMAIL ADDRESS IS OPTIONAL.
YOUR COMMENTS WILL BE ADDED ABOVE WITHIN A FEW HOURS.