Expert Advice on Growing Bergenias
Article by David Marks
Bergenias (also known as Elephant's Ears or pigsqueak) are evergreen, ground cover perennials (live longer than two years) which normally grow to a height of 50cm / 18in high. They spread to around 1m / 3ft round after a couple of years. In spring most varieties produce pink or purple flowers although some are white. Extremely hardy, they tolerate shade and dry conditions very well. These are very tough plants!
Bergenias are natives of Eastern Asia, parts of China, Mongolia and Russia in particular. These areas have extremes of cold in the winter followed by warmish summers. Bergenias have evolved to be able to cope with both.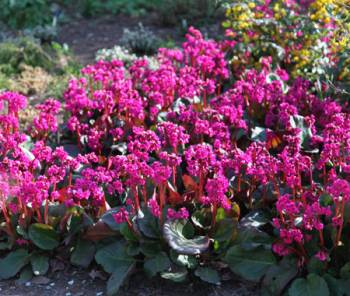 Use the checklist below to decide if Bergenias are the correct plant for you and your garden:
They grow to a maximum height of 60cm / 2ft and spread to 1m / 3ft or more depending on conditions.

The green leaves are normally evergreen and during the colder months they often take on a definite pink hue. They make excellent ground cover and suppress almost all weeds.

The flowers (normally pink, purple, red or white) are produced on stalks held above the foliage and appear in March to April time

They grow best in partial shade and but tolerate full shade and full sun well. A well grained moist soil is probably the best environment but they are remarkably good at growing in dry conditions as well.

They grow well in almost all soil types but avoid highly acidic or alkaline ones.

Established plants require no attention other than an tidy up.

They are hardy down to far lower temperatures than even the coldest parts of the UK will ever encounter, -20°C or lower is not a problem for Bergenias.

They can be grown in containers but this not their ideal environment and does not frame them particularly well.

No specialist knowledge is required to grow them and they are rarely affected by pests or diseases.
WHERE TO BUY BERGENIAS
Many garden centres sell
Bergenias especially from March to May when they are in flower. They are also commonly sold online. Crocus sell these plants online at a good price and they have a large choice of different varieties. Click here to visit their page which currently has 22 different varieties of Bergenia.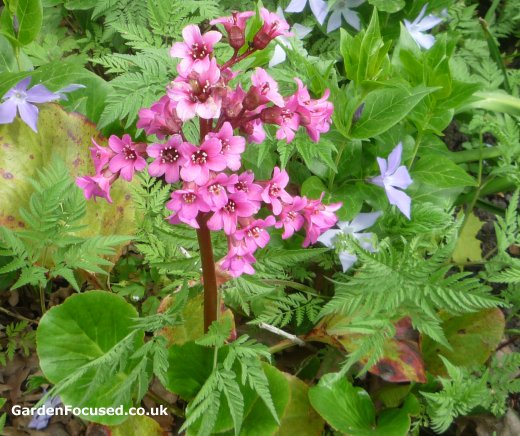 Bergenia Ballawley
See lower down this article for a few varieties which we can recommend from personal experience but almost all varieties grow well in the UK so choice comes down to personal preferences. The National Collection of Bergenias in Cambridge is an excellent place to see Bergenias in a natural setting. See their
website here for more details.
HOW TO PLANT BERGENIAS
Follow the steps below to ensure your Bergenia is planted correctly:
Choose a position in partial shade for best results but they truly are adaptable shrubs for shade and full sun. They can be planted in soil conditions except extremely acidic or alkaline conditions.

This is a strong growing plant in good conditions. Allow for at least a 1m / 3ft spread when full sized.

It can be planted all year long if the soil is not frozen and you can water well when conditions are dry. Mid March to April and mid September to October are the best times to plant.

Dig a hole twice the width of the rootball. Sprinkle in a handful ofblood, fish and bone and work into the ground.

Place the plant into the hole, filling in with soil so that it is at the same depth as was in the pot. Fill around the rootball and firm the soil down gently but firmly. Water well to settle the surrounding ground around the rootball.
CARING FOR BERGENIAS
When established a Bergenia will look after itself. There is no need to feed them unless the ground is very low in nutrients. Neither is watering required except in severe drought. The tough nature of these shrubs is well understood by council landscape gardeners whose only care, if any, is an annual tidy up of dead and dying leaves.
They do appreciate a mulch of well-rotted organic matter applied in late spring. Last year's used up potting compost is ideal. After four or five years the plants may well become congested and the solution is to dig them up, including the shallow roots. Split the root mass into three or four parts with a towel and replant separately. This is an excellent and fail-safe method of
propagating bergenias.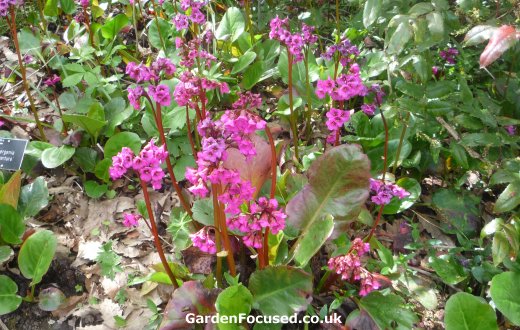 Bergenia 'Overture'
For younger plants up to two years old, water if conditions become dry. A twice yearly feed with blood, fish and bone in spring and autumn will help it to establish a good root system. Keep the area around the base of the plant free from weeds and grass. Clear leaves and other debris which falls on them. There are no common pests or diseases of this plant.
RECOMMENDED VARIETIES OF BERGENIA
The varieties below are our own personal favourites.
'BRESSINGHAM WHITE'
Medium sized, ice-white flowers in early to mid spring. As the flowers age they turn a very delicate shade of pink. The foliage is a dark dull green for most of the year turning a lovely shade of bronze and dark scarlet in winter.
Has been given an Award of Garden Merit (AGM) from the Royal Horticultural Society. Bressingham Ruby is just as good although a different colour. Choose this variety if you want masses of white flowers in spring.Click here to buy this variety online now from our recommended supplier.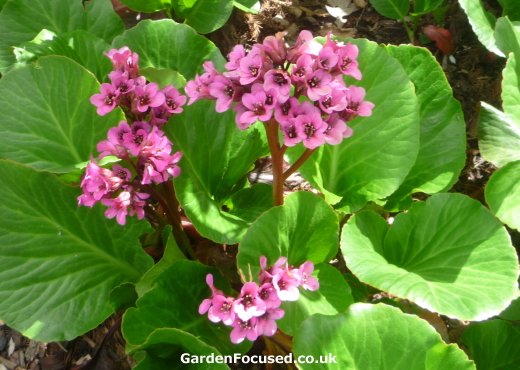 Bergenia 'Bressingham Ruby'
'ERIC SMITH'
Lovely dark pink flowers in spring but not as numerous as some other varieties. Grow this variety for its foliage which changes from green to bronze on the upper surface and dark reds on the underside. Not as common in garden centres or online nowadays but can still be found atShoot Gardening.
'SILBERLICHT'
Also known as 'Silver Light'. Lots of spring flowers which are mainly white (slowly turning pink) but with dark pink sepals. The stems are dark red and attractive in their own right. In our opinion the green leaves are also one of the very best of the Bergenias, mid green and regularly formed. They turn red in late autumn to winter. This one of very best favourites and been given an Award of Garden Merit (AGM) from the Royal Horticultural Society.Click here to buy this variety online now from the GardenFocused recommended supplier.
BERGENIA SUMMARY
Below we list the key strengths and weaknesses of this perennial.


HARDY
(to -20°C)
CLAY SOIL
Yes
SANDY SOIL
Yes
DRY SOIL
Yes
SHADE
Partial, full sh

ade, full sun

EVERGREEN
Yes
EASY CARE
SMALL GARDENS
Yes
POT / CONTAINER
Yes
FLOWERING
(depends
on variety)
FLOWER TIME
March to April
COMMENTS / QUESTIONS LEFT BY OUR READERS
Date: 10 July 2017
From: Joan
QUESTION: I have had this plant for a few years this year the leaves have turned bright red does that mean
I am going to lose it?

ANSWER: Bergenia leaves do tend to turn red after they have flowered but this is a bit early in
the season for that to happen. My guess is that the plant is under stress for some reason. Although bergenias stand
drought well, the recent drought and high temperatures in many areas of the UK may well be the cause.

If you suspect this applies to you I would water the plant well and then apply a mulch of organic matter
(grass cuttings will do fine, well-rotted compost would be even better) and see how it goes. I'm sure that
if normal conditions return next year your plant will be fine.
WHY NOT LEAVE YOUR QUESTION / COMMENTS ABOUT THIS PAGE?
ENTER THEM BELOW. EMAIL ADDRESS IS OPTIONAL.
YOUR COMMENTS WILL BE ADDED ABOVE WITHIN A FEW HOURS.