RHS FLOWER SHOW TATTON PARK
Article by David Marks

The Tatton Park RHS Flower Show celebrates its 21st anniversary in 2019 so they know a thing or two about organising events at this location.
This totally independent guide from GardenFocused is intended to provide you with information about the show to help you enjoy it more.
For 2019, the show will be held at Tatton Park, Mereheath Lane, Knutsford, Cheshire WA16 6QN from Wednesday 17 July (RHS members only) to Sunday 21 July. Wednesday to Saturday opening hours are 10.00am to 6.30pm, on the Sunday they close at 5pm.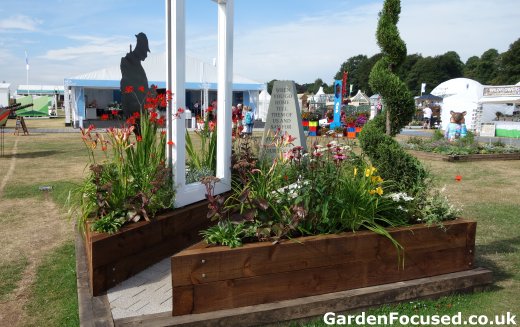 The remainder of this review is about the 2018 show to give you a taster of what to expect in 2019. We will update this review as more details become available.
Tickets can be pre-booked or bought at the entrance. Each adult is entitled to bring two under-16s free of charge. Tickets cost £27.50 if pre-booked or £33.50 on the door. RHS members are given a £4.50 discount.
Tip Number One 80,000 people are expected to visit the show for 2019. If crowds are not your thing arrive early (10.00am) or arrive later in the day, the show closes at 6.30pm (5.00pm on Sunday).
Tip Number Two the area becomes congested with traffic on show days, do expect traffic jams and your stress levels will be reduced. You are strongly advised that when you get near to the show to follow the adequate signs and forget about using your sat nav. Car parking is free and there are ample spaces for all. Allow about 30 to 45 minutes for the traffic near the show.
When you do get the entrance you will also probably be faced with a significant queue to enter even if you have a pre-booked ticket.
Top Tip Number Three is to check the weather forecast and if wet, wear wellingtons or similar weather proof footwear. On the day we visited the weather was dry and normal shoes were fine. If the weather was wet, walking off the paths could cause significant walking problems.
Tip Number Four is that at 4.00 on the last day of the show (Sunday), plants are sold off cheaply by the exhibitors in the Floral Marquee and Plant Village. Be there on time and pick up bargain show quality plants and shrubs.
Tip Number Five if crowds of people are not your thing, the gates are advertised to open at 10.00am but in reality open at 9.45. Get there early and avoid some of the crowds.
Tip Number Six Remember where you parked your car! The signs for sections of the car park are very poor and there will be a sea of cars as far as the eye can see from midday onwards.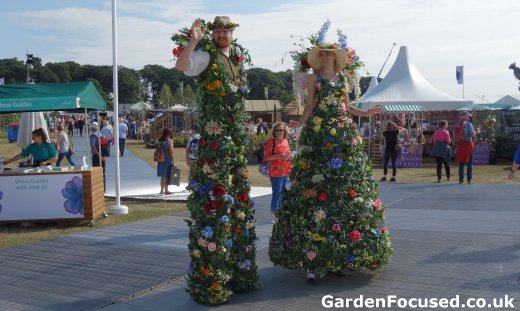 SHOW GARDENS AT RHS TATTON PARK SHOW
There are too many show gardens to show them all here but they range from large to small, from rather obscure to just very attractive. All are worth a look. The category of gardens that many visitors will find particularly interesting is the Back to Back Gardens. There are eight individual gardens all with slightly different theme.
The Back to Back Gardens are designed to give inspiration for the planting, features and layout of smaller gardens.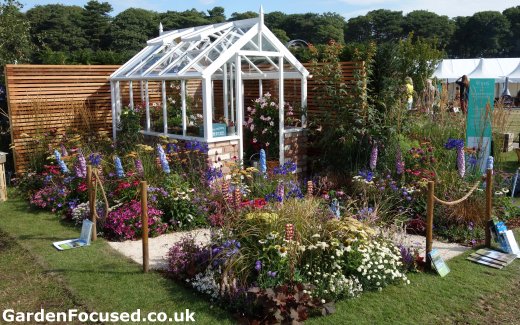 Back to Back garden 'Path to the Future'
Another category is the Young Designer Gardens. These are designed by college graduates and showcase some very practical ideas for small to medium sized gardens. We were particularly impressed with the Finding Urban Nature Garden. Lots of ideas for recycling industrial items.
Make sure you walk down Bus Stop Boulevard, there are four decorated bus stops. You can vote for your favourite bus stop. We were very surprised that the decorated bus stops did not attract more attention from visitors.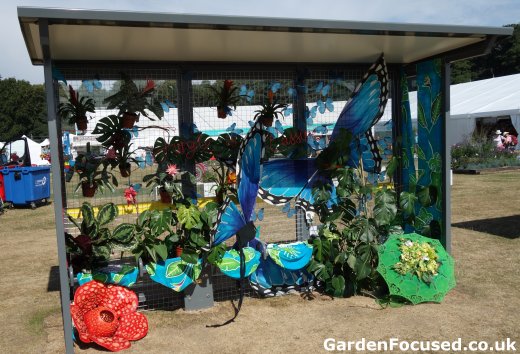 FLORAL MARQUEE RHS FLOWER SHOW TATTON PARK
The Floral Marquee at Tatton Park cannot be missed. The range of plants and gardening accessories is expansive and all can be bought on site, often at a discount. If you visit on the last day of the show (Sunday) many of the plants in the marquee are sold of at very low prices between 4pm and 5pm.
One of the largest displays at the 2018 show is
Roualeyn Fuchsias (see below). Fuchsias are in full flower at this time of the year so you can expect a magnificent display.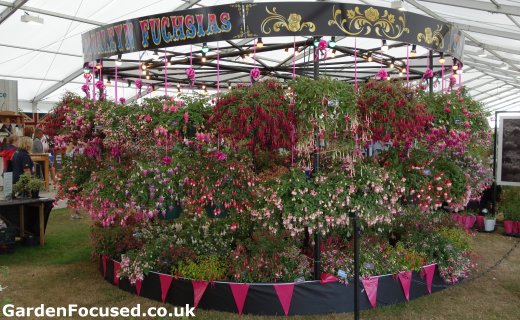 Roualeyn Fuchsias in floral marquee
It does become very crowded in the floral marquees throughout most of the day but this is normal at these large shows. The weather for show in 2018 is predicted to be in the low 20C so the marquee won't be too hot.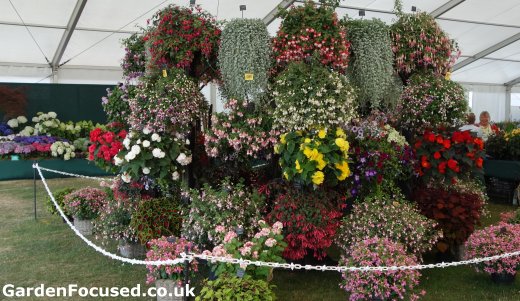 FOOD AT THE RHS FLOWER SHOW TATTON PARK
There is more than enough food outlets on site to ensure that everyone gets adequately fed. The range of food is wide, everything from a sandwich to a Mexican wrap and 100 shades of cuisine in between.
If you prefer a sit down meal then the Garden Lounge cafe may be more to your liking. Take you wallet with you though if you plan eating at this cafe, breakfast is £19 per person and lunch is £45 per person. The prices for all the food at the Tatton Park show is above what you might expect. If you prefer to bring your own food, there is no problem.
Whatever food you choose to eat, judging by the 2017 show, seating may well be a problem. The weather forecast for the 2018 show is excellent so the prospect of water sodden ground is very unlikely. However you may want to bring a mat or two so that you can sit on the grass in relative comfort.
One good place to get a seat while you eat your meal is the bandstand. In 2018 this proved true with lots of seats available. Eat you meal with a seat of your choice and enjoy the music at the same time.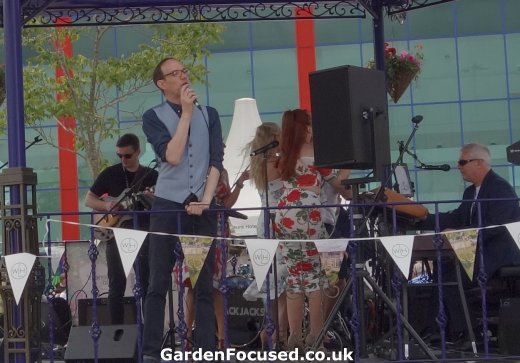 EVENTS AT THE RHS FLOWER SHOW TATTON PARK
There are several areas in the show where guest speakers and performers will be entertaining and / or educating their audiences with often amusing, always informative talks and music.
As far as we are aware there is not the plethora of gardening TV stars at this show. At many other RHS shows they do appear.
WHERE TO STAY OVERNIGHT
We stayed at Wall Hill Farm Guest House (B&B). You can see our 4 star review on TripAdvisor. To sum it up the accommodation was good but short on light. Good breakfast.
Never saw the owner which was a bit unusual, you pick up keys from a lobby area. The lady who serves and cooks breakfast is excellent, but again, not the owner.