MALVERN THREE COUNTIES AUTUMN SHOW
The Malvern Shows are held in the Three Counties Showground which is one of the most beautiful settings of all the shows held in the UK.
This totally independent guide from GardenFocused is intended to provide you with information about the show to help you enjoy it more.
Dates for the 2019 show are Saturday 28th September to Sunday 29th September.
Adult tickets (16 years plus) cost £17 online or £21 on the day with children (5 to 16) costing £6 online and £8 on the day. Family tickets (2 adults plus 3 children) cost £40 online or £50 on the day. Online tickets are available up to the day before entrance. Pensioners are not given any discounts.
Parking is free and there is lots of it. You can buy Gold Parking for £15 online and this will get you a parking space very near the show. We were given a free Press parking permit which is in the yellow zone, but by accident we entered the yellow zone and parked well before the Press parking zone.
No one asked us for any reason why we we using the Yellow Zone and most of it is very near (a minute's walk) the North Gate entrance. We can't guarantee it will work for you in 2019 but certainly it allowed us to park very near the entrance, and we arrived at 12.30.
Much of the show area has solid paths but there are also many parts which are simply grass. So come prepared with waterproof footwear in case it rains.
The remainder of this review describes the 2018 show to give you a taster of what to expect in 2019. As more details of the 2019 show become available we will update this article.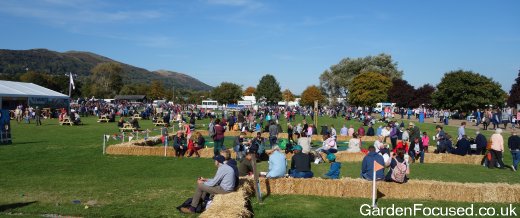 WHAT'S ON AT THE FAIR
This is a huge show and by any standards there is a vast amount to see and do. It's also aimed directly at families rather than gardeners. Don't expect to come away with many plants and shrubs to plant in your garden, this show is about entertainment.
The main horticultural element to the show is the Harvest Pavilion. This showcases the winners of the various competitions, and is well worth visiting.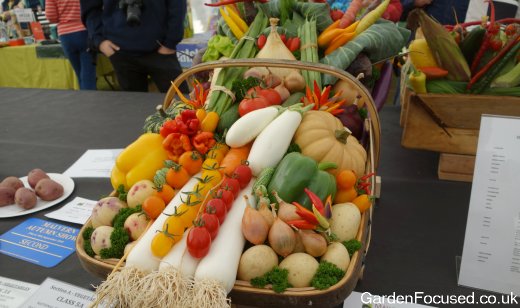 Children will find the display of giant vegetables (National Giant Vegetables Championship) more interesting. Some, like the pumpkins in the picture below are a work of art, others are simply huge.
Shopaholics are spoilt for choice with masses of stall selling everything from kitchenware to fashion items. The majority have nothing to do with horticulture or agriculture but that's the nature of this show.
Some of the stalls are sideshows in their right. The blacksmith below was particularly interesting for adults and children. Not only is he making tools and and other metal items in front of your eyes but he also gives a running description of how he is doing it.
In the main demonstration area they have various shows including a dog agility competition. Around that area are smaller ones with exotic animals such as llamas and giant tortoises. You can get very close to the animals and even stroke them. Kids need to pay £2 to enter the giant tortoise arena but most are free.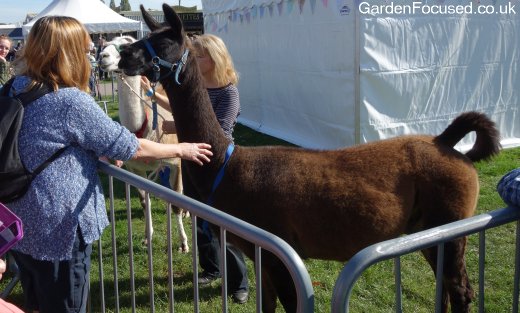 Don't forget to find the bandstand area and listen to the music / watch the show. For 2018 the theme was old time dancing and music, no doubt 2019 will be different but the quality of the music is always top notch. See our 30 second video below.

Video of Malvern Autumn Show Bandstand
FOOD AT THE MALVERN AUTUMN FAIR
Food plays a big part at this show!
There are stalls and eating areas dotted all around the showground. The variety is huge, everything from doughnuts to pulled pork and lots in between. Prices are about average for this type of show.
Finding an empty seat can be a major problem although there are lots of seating areas around the show. If you need a seat, try buying your food and then make your way to the bandstand area or one the demo talks. They normally have seats free and there is no problem with eating in those areas.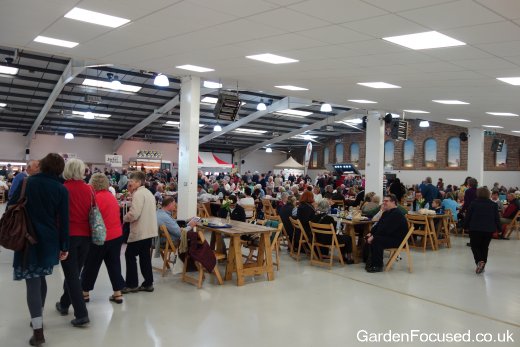 There is one large covered cafe area and a couple of smaller ones but if the weather was poor these would quickly become swamped.