CROCUS OPEN DAYS
Article by David Marks
Crocus are, by a large margin, the largest gardening website in the UK. They started business in 2000 and their growth has been astonishing. The reason for this is simple, they supply top quality plants at value for money prices.
We have bought many plants from them, as have most of the leading name garden designers. Our experience is that they supply very healthy plants, well packaged and supplied quickly. they are simply head and shoulders above the majority of online plant suppliers.
There is no place in the UK which offers the range of plants which Crocus does. They stock 4,000 plant varieties which is roughly 10 times that of your local garden centre.
Two times each year they open up their doors to the public where you can view and buy their plants at a significant discount. We visited them on the first Open Day of 2018, Saturday 21st April. They have a second Crocus Open Day which is scheduled for Saturday 2nd June 2018.
WHY ATTEND A CROCUS OPEN DAY
A Crocus Open Day is aimed exclusively at displaying their massive range of plants and allowing you to make a purchase at a discount. They tend to concentrate on hardy or semi-hardy plants but not exclusively.
Probably the easiest way to illustrate what their open days are about is to compare them to an RHS show. As well as plants, an RHS show will have a floral marquee, kids activities, a range of suppliers, show gardens, a large number of food retailers and other non-gardening retailers.
A Crocus Open Day will have far more plants, the prices will be discounted and the atmosphere will be far less formal.
Lots of people attend each Crocus Open Day but because they restrict the main emphasis on value for money plants, it is far easier and less crowded compared to an RHS Show. For us, their open days are a welcome break from the almost manic atmosphere and crowding of an RHS Show.
Crocus provide free and more than adequate parking, which is a blessing compared to most other shows. They also do not charge an entrance fee, almost unheard of of in a gardening event of this size.
Their open days are held at:
Crocus at Nursery Court, London Road, Windlesham GU20 6LQ. They open at 9.30 and close at 3.30 on Open Days.
WHAT TO EXPECT AT A CROCUS OPEN DAY
When you arrive you will be directed to a free parking space. At the main reception area you will be given a two-sided information sheet which are shown below. You will also be given a strip or two of numbered stickers unique to you.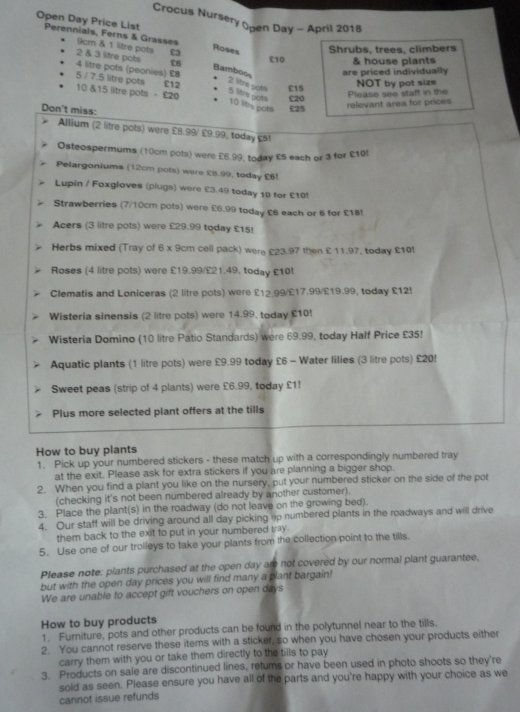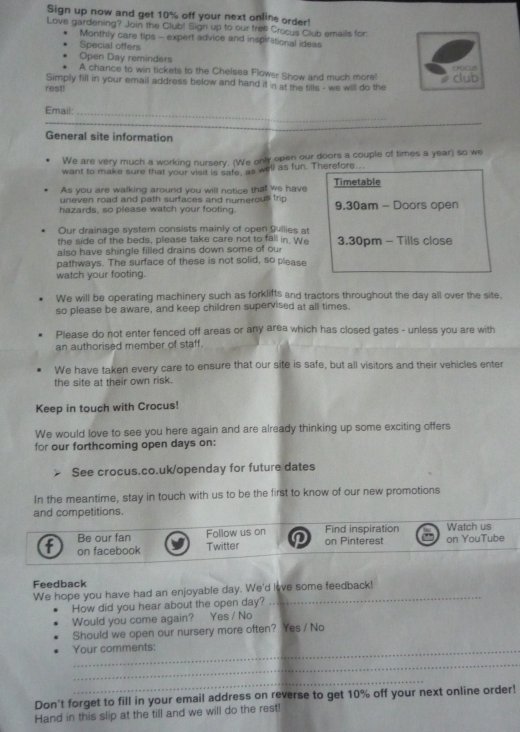 We compared prices of plants at the Open Day against those online and there appears to be a discount at the show of about 20%.
Because the site is set up to a working nursery the layout is somewhat random. Yes plants are in related groups but not necessarily alphabetic order. A side effect of this is that you will need lots of time to explore this extensive site.
Pricing of plants is a slightly difficult area because the plants are not individually priced. The above leaflets give the prices of some plants but the majority are a mystery. To get an exact price you need to ask one of the helpers, and there are lots of them. They are quite happy to look up the price(s) of your chosen plant.
You then place one of stickers on the plant pot and leave it in one of the many trailers nearby. The plants are being constantly collected and driven to the central collection area. When you have finished your day, head off to the central collection area and your plants will be ready for collection.
The system sounds a bit drawn but everyone seems quite content with it, probably even quite entertained by the whole process!
As mentioned above, the site is a working plants nursery and not a retail garden centre. So, the paths are not as even as you might expect at a garden centre but they are perfectly walkeable for almost all people. On wet days, a pair of wellington boots might be a good idea.
FOOD AND FACILITIES
Food facilities are basic but they do have them. There is an outdoor cafe with seating selling coffees, teas and other drinks with a few snacks. The hot food bar nearby sells burgers, salads, sausage and bacon rolls. If crispy bacon rolls are your thing, you will be served the tastiest one in all the world – delicious.
There are toilets on site although we didn't use them.
OUR OVERALL OPINION
Definitely a better experience compared to most of the other large shows. Plant prices are definitely discounted, the choice is unparalleled, parking and entry are free and the whole, slightly quirky, experience is very enjoyable.