BBC GARDENERS WORLD LIVE
Article by David Marks

The BBC Gardeners World Live event was first held in 1992 when attendance was 17,500. At that stage it was jointly held with the RHS Birmingham Flower Show. From 2005 it was also held in conjunction with the Good Food Show. Attendance in recent years has grown to over 100,000 each year
This totally independent guide from GardenFocused is intended to provide you with information about the show to help you enjoy it more.
For 2019, the show will be held at the National Exhibition Centre (NEC) from Thursday 13th June to Sunday 16th June. For all days opening hours are 9.00am to 6.00pm. On the Thursday the floral marquee delays opening until 10.00am.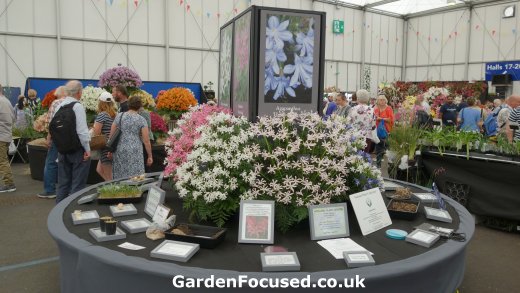 Floral marquee at Gardeners World Live
The remainder of this review is about the 2018 show to give you a taster of what to expect in 2019. We will update this review as more details become available.
Tickets can be pre-booked or bought at the entrance. Charges for adults are £26.50 on the day, £24.00 if pre-booked. Over 65s get a £2 discount. Bizarrely, children aged 6 to 17 get in free on the Saturday and Sunday but need to pay the adult price on the Thursday and Friday. Children under 6 are allowed free entrance on all days.
Tip Number One even if you are not into cooking, have a wander round the Good Food Show (entry is included in the price for Gardeners World) at about lunch time and you will find loads of free tasters. Maybe not enough for a full meal but, with determination, it's not far off.
Tip Number Two is not really a tip, just a way to avoid stress. Parking at the show costs £12 so be prepared for it. There are absolutely no alternatives unless you come by public transport or bike. There may also well be a long walk from where you park your car to the entrance.
Top Tip Number Three is to take cash with you if you plan to buy anything. There are cash machines at the NEC but they all charge you to withdraw money and there are likely to be queues.
Top Tip Number Four if you want to see the show with as few of the crowds as possible, you can arrive early (before 9.00am) and then use one of the cafes for a coffee, some of them are open before 9.00am.
Top Tip Number Five is to pre book any tickets to the Theatre talks in advance. When I checked three days before the show, all appearances on every day by Monty Don and Alan Titchmarsh were already fully booked. Many other slots by celebrities were also already fully booked.
Top Tip Number Six is to have a look at the show guide you will be given when you enter the show. It can be found

here. It gives all the timetables and exhibitors plus a map to allow you to plan your day before you get to the show.
Top Tip Number Seven food is expensive at the show (as at most shows of this type) especially soft drinks. If you are on a budget why not take your own sandwiches and a drink from home.
Top Tip Number Eight seating is never sufficient at shows like this and you may find yourself sitting on the ground for a rest or to eat your food. It may be worthwhile taking a small groundsheet or wearing an old jacket which you can sit on.
In 2018 on show days, the weather is predicted by the Met Office to be reasonable. Maybe a shower or two on Saturday but nothing significant.
SHOW GARDENS AT GARDENERS WORLD LIVE
Show gardens should inspire amateur gardeners to develop ideas which can be used when they develop their own gardens. This can be the source of a problem, not only at this show but most of the others as well. With all the crowds it can be nigh on impossible to get a decent view of some of the gardens.
At this Gardeners World Live there several show gardens but the three largest, the Tesco show garden, made in Birmingham garden and the Wyevale show garden are the, supposedly, jewels in the crown. The write up of the Wyevale show garden says "Visitors will be able to walk through the garden to see planting that thrives in tricky situations such as ……".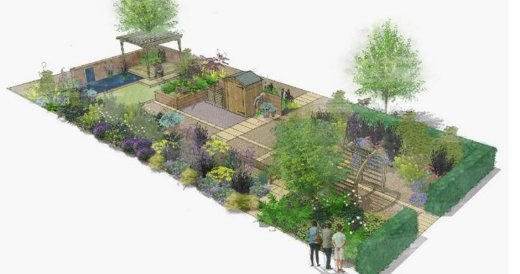 Wyevale Solutions Garden
Well, walking through the Wyevale show garden is akin to walking round a Tesco supermarket at the peak time just before Christmas! This is not a criticism specifically of this show garden, it's more a fact of life at all the large shows. I personally would prefer to view the smaller show gardens, and there are plenty at Gardeners World Live, if you are looking for practical ideas.
Having said that, the popularity Wyevale Solutions Garden is a sure sign that it is appreciated by the many visitors.
The Wyevale show garden is designed to address problems commonly found in everyday gardens. Plants which require an acidic soil are planted in a raised bed; shady areas contain shade tolerant plants such as Hypericum and Hydrangeas, and more.
The Wyevale show garden has won the Platinum award (the highest award possible) during the Gardeners World Live show in 2018.
The other major show garden is the one from Tesco. This also is a large display. There are several events throughout the day which will occur in or near this show garden so it's definitely worthwhile checking out the timetable which will be near the Tesco garden.
The current scheduled daily timetable is:
11am: Green Juice
2pm (Thu & Sat only): Potting up the new Gardeners' World range of Pelargonium, Dahlia, Petunia, Coleus and Fuchsia – demonstrated by Annabelle of Life at No.27
3pm: Nasturtium chimichurri
4pm (Fri & Sun only): Potting up the new Gardeners' World range of Pelargonium, Dahlia, Petunia, Coleus and Fuchsia – demonstrated by Annabelle of Life at No.27

Tesco Show Garden
Other show gardens include the APL Avenue featuring five separate gardens, Beautiful Borders with over 20 smaller gardens, Young Landscapers Gardens and Marshalls Front Garden which looks particularly interesting. It is a practical front garden design incorporating both car parking and the garden in a compact area.
The "Breath of Fresh Air" show garden above was designed by Martyn Wilson (Wilson Associates Garden Design) and constructed by
Keyscape Design and Construction. The APL Avenue at Gardener's World Live showcases some excellent small show gardens.
The "Breath of Fresh Air" particularly caught our attention because, with the use of some reclaimed materials, it could be realistically constructed by the average gardener without a large budget.
It's an ideal shape for many city gardens and also for the gardens of terraced houses. Your eye is to the end of the garden with the wood burner acting as a magnet for the eye. The simple table and chairs painted in bright orange is a superb and eye catching feature (see the close up below).
FLORAL MARQUEE AT GARDENERS WORLD LIVE
Make sure you have a wander round the floral marquee, jam-packed full of the latest plants. Some of the displays are works of art in their right. Be prepared for it to be crowded however not as crowded as some other recent shows we have attended.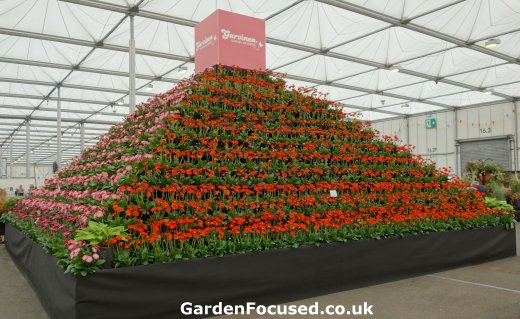 Gerbera display in floral marquee
The floral marquee has several large displays in it, see the one above. Overall we think that the standard of the displays is not up to that of the larger RHS shows but it still is impressive and well worth viewing.
Make sure you find out where the Demo Bench is inside the marquee because each day they have a variety of mini-talks featuring some very well known names such as Diarmuid Gavin, Monty Don and Carol Klein to mention just a few. The talks tend to last 20 minutes so it's quite possible to attend a couple of them.
The Bandstand hosts many live musical artists throughout the day and often has seating which is not fully occupied. If you buy street food then take it to the seating area of the Bandstand, have a seat, listen to some music and munch your food there. The live music is top quality and a very good way to spend 15 minutes or so.
STAGES AT GARDENERS WORLD LIVE
There are various talks held throughout the show on "stages" throughout show area. Consult your show guide for times and the stars of the talks. We attended several and not only are they informative but they are also very amusing at times. Being live events it's never possible to predict what will happen.
Alan Titchmarsh was on top form at the "Every Space Counts" telling us about "bomb proof" plants. At live events, he is a very accomplished speaker and well worth the time.
Another star appearance was from Carol Klein during an interview. A great conversationalist, she was not only in tears herself at one point but so were half the audience in sympathy with her.