HOW TO CHIT POTATOES FOR GROWING IN CONTAINERS
First off, it is not absolutely necessary to chit potatoes but in some cases it does result in an earlier crop.
Chitting is simply the process of starting seed potatoes into growth before they are planted. This normally happens indoors. When chitted potatoes are planted they are already in the growth phase and have a head start on potatoes which have not been chitted
WHEN TO CHIT POTATOES
To work out when to start chitting your potatoes you'll need to do a few simple calculations if you want to get the date absolutely correct. But the beauty of growing potatoes in containers is that you can get the dates wrong and still have a great crop. The key factor in deciding when to chit your seed potatoes is the last likely frost date in your part of the country.
Let's take Birmingham, about average for the UK, it has a last frost date of 5th May. To chit your seed potatoes will take two to three weeks. In our page about when to plant out chitted seed potatoes we estimated that they should be planted out in late March (click here to go to that page). On that basis we recommend you start to chit your potatoes around early to mid March. Adjust that date depending on how late a frost can occur in your area.
SETTING UP SEED POTATOES FOR CHITTING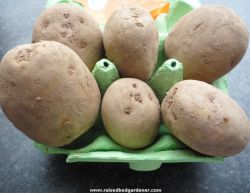 You will need containers to hold the potatoes in position while they are chitting (sometimes called sprouting). Egg boxes are ideal because they are the correct size and shape to hold the seed potatoes.
Click the picture on the left to enlarge it and see exactly where the eyes are on a typical seed potato.
The eyes on a potato are where sprouts will start growing. When you position your seed potatoes in the egg box try to position the majority of the eyes upwards. they tend to be in clusters on potatoes but some will inevitably be facing downwards.
LIGHT AND TEMPERATURE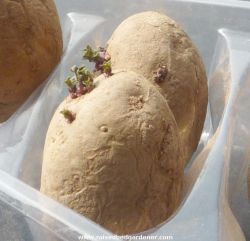 The ideal temperature for chitting seed potatoes needs to be cool but definitely nowhere near freezing. If the seed potatoes freeze they will be damaged.
Nearly as important is not to subject them to high temperatures. This will cause the seed potato to shrivel badly. An ideal temperature range is 45°F /7°C to 60°F / 15°C. These sort of temperatures are found on a double-glazed windowsill which receives no direct sunlight.
Light levels are also important. Too little light and the spouts will be long, spindly and liable to break off. You want short, stubby sprouts which are deep green, almost purple in colour. Click the above picture to see an enlarged version of healthy looking sprouts. Indirect light for the entire day is the best way to achieve healthy sprouts when chitting seed potatoes.
HOW LONG TO CHIT POTATOES
It takes two to three weeks to chit / sprout seed potatoes. You want deep green shoots which are about 1cm to 2cm (half to 1in) long. the length is not critical, healthy, deep green coloured sprouts are.
If you start too early it's fine to simply rub off the shoots and let them start to grow again, no harm will be done.
NEXT STEPS
Having chitted your seed potatoes the next step is to plant them in containers.
PREPARING TO PLANT YOUR POTATOES
HOW TO PLANT POTATOES IN CONTAINERS
HOW TO CARE FOR POTATOES IN CONTAINERS
HARVESTING POTATOES IN CONTAINERS