SALVIAS
Article by David Marks
Salvia covers well over 900 species of plants. They range from tender bedding plants, the herb sage through to perennial flowering plants. This article covers the readily available perennial flowering plants.
The species in that group which we describe below include Salvia coccinea, Salvia involucrata, Salvia patens, Salvia microphylla, Salvia sylvestris and Salvia nemorosa. The most commonly cultivated is Salvia nemorosa, the variety 'Caradonna' in particular.  Click here for a more complete list of salvias.
SALVIA COCCINEA
Salvia coccinea are sometimes called Scarlet or Texas Sage because of the colour of the flowers. However, many cultivars are other colours, mainly pink. They are classified as half hardy and will survive in a protected position down to, maybe, -5C (USDA hardiness zone 9). For this reason they are most frequently grown as an annual. Salvia coccinea originate from South America, probably Mexico.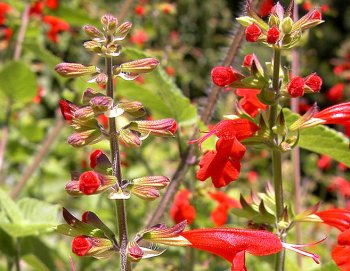 By Carl E Lewis – Salvia coccinea, CC BY 2.0, Link
They can be bought as potted plants and also are easy to grow from seed. Not as tolerant of soil conditions as many other salvias, their ideal conditions are:
A slightly acidic soil although a neutral soil will also be OK for them.
A light and well-drained soil such as sand or loam. They don't do well in clay.
They prefer moisture at the roots so hand-watering in warm, dry conditions will be required.
They grow best in full sun.
Salvia coccinea grows to about 75cm (28in) high with a spread of 50cm (20in) although this varies slightly by cultivar. Flower colours also vary from deep red to palest pink.
The leaves are very similar to the herb we know simply as sage, rough to touch and scented especially when crushed. Unlike common sage, the leaves are shed in the winter and reappear next spring.
Our recommendation for a particular variety of Salvia coccinea is 'Summer Jewel Pink'. A compact plant which produces lots of pink flowers from early June to late September.
SALVIA INVOLUCRATA
Salvia Involucrata, often know as the Rosy-Leaf Sage, is a half hardy perennial which is really only suitable for growing in warmer parts of the UK. It is hardy down to -5C / 23F, does best when grown in full sun and in a sheltered position.
Pink flowers are produced starting in July through to October. Height is about 1.2m / 4ft with a spread of 1m / 3ft. Salvia Involucrata will tolerate both acid and alkaline soils but does prefer a light well soil – not really suited to clay soils.
Our recommendation for a specific variety would be Salvia involucrata 'Boutin'. The flowers are deep pink and the stems support themselves.
SALVIA MICROPHYLLA
Salvia Macrophylla, often known as Baby Sage, is hardier compared to the some other salvia species. It will stand temperatures down to -10C / 14F making it suitable for most parts of the UK. It is also an evergreen although the foliage looks at its best in spring, summer and.
The prefer a full sun position which is sheltered from strong winds. It will grow to a height of about 1m / 3ft with a similar spread. The leaves are green and aromatic. The grow on all soils well (acidic and alkaline) but struggle on clay soils.
Flowers depend on the variety but they are normally red, pink or white appearing from June to October.
SALVIA NEMOROSA
Salvia nemorosa, sometimes know as Balkan Clary, is possibly the most commonly cultivated of all the salvias. They are fully hardy down to -20C / -4F so can be grown
Most varieties are compact reaching a height and spread of about 0.5m / 18in. Masses of flowers appear from June to November, and the leaves are aromatic when crushed.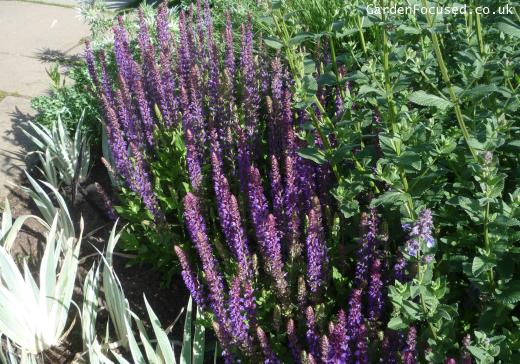 Salvia nemorosa 'Ostfriesland'
Two varieties stand out as particularly good and we have written individual pages on them. Read about Salvia nemorosa 'Caradonna' here and Salvia nemorosa 'Ostfriesland' here.
SALVIA SYLVESTRIS
Salvia sylvestris is an extremely hardy perennial which can be grown. Violet blue flowers appear in early June and last through to late July. The stems are almost black an the leaves are fragrant especially when crushed. Expect it to grow to around 70cm / 2ft tall with a spread of 45cm / 18in.
This perennial is not only very low maintenance but it also attracts bees and butterflies. It was the Perennial Plant of the Year in 1997.
In practice only a few varieties of Salvia sylvestris are readily available, Salvia sylvestris 'May Night' (also called 'Mainacht') is one of the best and has been given an Award of Garden Merit (AGM) by the Royal Horticultural Society.
It grows best in full sun or dappled shade. They prefer a light, well drained soil such as chalk, loam or sand. Clay soils dug over with lots of organic matter are also fine. They withstand drought conditions better than most plants and shrubs.
COMMENTS / QUESTIONS LEFT BY OUR READERS
Date:
From:
QUESTION: Awaiting your questions and comments

ANSWER: Awaiting your questions and comments
WHY NOT LEAVE YOUR QUESTION / COMMENTS ABOUT THIS PAGE?
ENTER THEM BELOW. EMAIL ADDRESS IS OPTIONAL.
YOUR COMMENTS WILL BE ADDED ABOVE WITHIN A FEW HOURS.