GALIUM ODORATUM
Galium odoratum is often called Sweet Woodruff or the Hay Plant. It is a ground cover perennial (regrows each year) with small white flowers in April to June. All parts of the plant have scent including the flowers. Definitely a magnet for bees and other insects.
Use the checklist below to decide if Galium odoratum is suited to your preferences and garden conditions:
They grow to roughly 30cm / 1ft high.
Galium odoratum can be invasive in some conditions. They can easily spread to more than 1m (3ft 3in) if not kept under control. They spread via underground rhizomes.
Small white flowers appear in mid May and last to July. All parts of the plant (including the flowers) are scented.
The leaves die down in November time.
The leaves, stems and flowers make a very pleasant smelling pot pourri.
Galium odoratum tolerate almost all soil conditions except water-logging. They will grow in dry shady positions, for example under strong growing shrubs.
For their first year the soil should be kept moist to allow them to establish a good root system
They prefer semi-shade.
They are very low maintenance when established.
They are fully hardy in all parts of the UK down to -22°C / -11°F. USDA hardiness zones 4 to 10.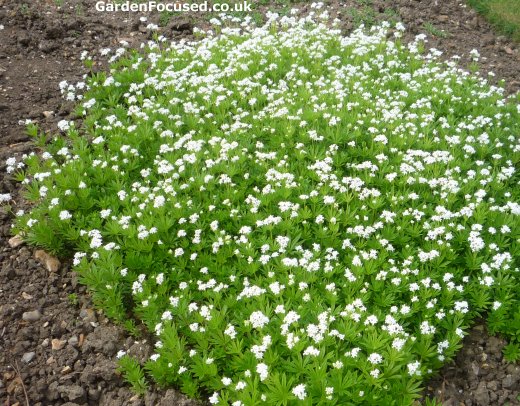 Galium odoratum / Sweet Woodruff
WHERE TO BUY GALIUM ODORATUM
Many garden centres will sell Galium odoratum so there is no difficulty in obtaining them. They are also widely available online.
Our recommendation for a reputable online supplier with a five year guarantee would be Crocus. They have served us well and supply healthy, good sized plants which are extremely well packaged. Click here for their page on Galium odoratum in 9cm or 2 litre pots with a five year guarantee.
HOW AND WHEN TO PLANT GALIUM ODORATUM
Plant from pots as described below
Choose a partial to full shade position. They can be planted under shrubs as long as you can keep them moist for the first year.
If the soil is very heavy or is not free draining add lots of well rotted compost to the area and dig it in well.
It can be planted all year long if the soil is not frozen and you can water well when conditions are dry. Mid March to April and mid September to October are the best times to plant potted Galium odoratum.
Dig a hole twice the width of the rootball. Sprinkle in a handful of blood, fish and bone and work into the ground.
Place the plant into the hole, filling in with soil so that it is at the same depth as was in the pot. Fill around the rootball and firm the soil down gently but firmly. Water well to settle the surrounding ground around the rootball.
If planting more than one plant space them 1m / 39in apart
If you have a friend who has an established Galium odoratum then simply dig up some of the rhizomes after flowering has finished and place in a pot of multi-purpose compost. Keep the pot moist and in a shaded position. Plant out in mid-September. Success rate is very high.
CARE OF
GALIUM ODORATUM
They require little or no feeding. An annual feed of a good handful of fish, blood and bone will help them along nicely. Certainly, do not feed with nitrogen rich fertilisers, this will only encourage leaf growth at the expense of flowers.
The only other care Galium odoratum needs is to stop it spreading further than you want. It spreads by rhizomes which are underground stems. These then root and grow new plants. The rhizomes are only a few centimetres below the soil surface so can easily be dug up with a trowel.
GROWING GALIUM ODORATUM IN CONTAINERS
Galium odoratum can be grown in containers and will provide early interest especially if grown with a larger specimen plant such as a rose. They will not interfere with the larger plant because they take few nutrients or moisture from the soil.
PESTS AND DISEASES OF GALIUM ODORATUM
Galium Odoratum hardy ever suffers from pests or diseases.
GALIUM ODORATUM SUMMARY
Below we list the key strengths and weaknesses of Galium odoratum.
| | |
| --- | --- |
| HARDY | (to -22°C / -11°F) |
| | |
| CLAY SOIL | Yes |
| | |
| SANDY SOIL | Yes |
| | |
| DRY SOIL | Yes |
| | |
| SHADE | Yes |
| | |
| EVERGREEN | No |
| | |
| EASY CARE | |
| | |
| SMALL GARDENS | Yes |
| | |
| POT / CONTAINER | Yes |
| | |
| FLOWERING | |
| | |
| FLOWER TIME | May to July |