GERANIUM 'ROZANNE'
Article by David Marks
Geranium 'Rozanne' is a perennial which has a life expectancy of many years. They can be left to their own devices for six or seven years and may then benefit from being divided into two individual plants which will then live for many more years after that.
This variety of Geranium has won several awards including the RHS Award of Garden Merit and the 'Plant of the Centenary' in 2013. A large number of expert garden designers include it in their top ten perennial plants of all time.
Use the checklist below to decide if Geranium 'Rozanne' is suited to your preferences and garden conditions:
They grow to roughly 50cm / 20 inches high, the leaves first appearing in early April. They will spread to around 1 metre / 3 foot in three years but the centre of the plant remains very compact.
Masses of lavender blue flowers appear starting in May or early June. The flowers are large for a perennial geranium (2cm across) and continue to appear until late  October. There is a slight lull in flower production around late June time but in early July it picks up again.
The leaves die down in October / November time.
Geranium 'Rozanne' has a dislike of water-logged soils but they grow in all types of ground from clay to sandy soils. They produce the best display of flowers in soils which are slightly low in nutrients.
They tolerate full sun to semi-shade conditions. The best flower colour occurs in a sunny position.
Left to their own devices, they will spread easily and grown around and through other nearby plants. They can easily be pruned back on June or November time to keep them in shape if you want.
They are low maintenance if the soil is kept moist.
No parts of the plant are poisonous to humans.
They make good cut flowers but only last for two to three days.
They can successfully be grown in containers.
They are fully hardy in all parts of the UK down to -22°C / -11°F.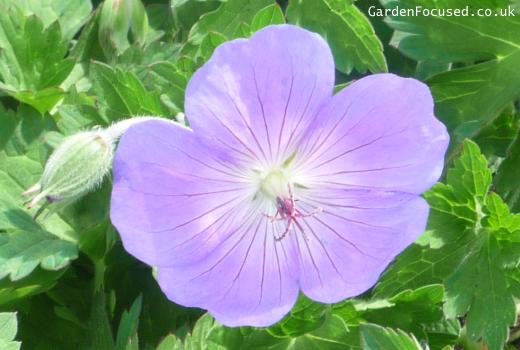 WHERE TO BUY GERANIUM ROZANNE
Many garden centres will sell Geranium 'Rozanne' so there is no difficulty in obtaining them. They are also widely available online.
Our recommendation for a reputable online supplier with a five year guarantee would be Crocus. They have served us well and supply healthy, good sized plants which are extremely well packaged. Click here for their page on Geranium 'Rozanne' in 9cm or 2 litre pots with a five year guarantee.
HOW AND WHEN TO PLANT GERANIUM ROZANNE
Planting from pots is the most reliable method as described below
Choose a sunny to partial shade position. Somewhere where the soil is normally moist but not waterlogged.
If the soil is heavy or is not free draining add lots of well rotted compost to the area and dig it in well.
It can be planted all year long if the soil is not frozen and you can water well when conditions are dry. Mid March to April and mid September to October are the best times to plant potted geraniums.
Dig a hole twice the width of the rootball. Sprinkle in a handful of blood, fish and bone and work into the ground.
Place the plant into the hole, filling in with soil so that it is at the same depth as was in the pot. Fill around the rootball and firm the soil down gently but firmly. Water  well to settle the surrounding ground around the rootball.
HOW TO CARE FOR GERANIUM ROZANNE
The key need of Geranium Rozanne is a moist but not waterlogged soil, this plant is not drought resistant. If conditions are very dry, water well. They also prefer a soil slightly low in nutrients so a feed in spring and autumn with a small handful of fish, blood and bone will keep it in good condition.
In rich soils Geranium Rozanne will spread quite quickly after it has become established. If this is a problem trim it back to size in late June. This will also encourage it to flower into autumn. If you have the time, deadhead the flowers occasionally which will also encourage new ones to form but this is by no means essential.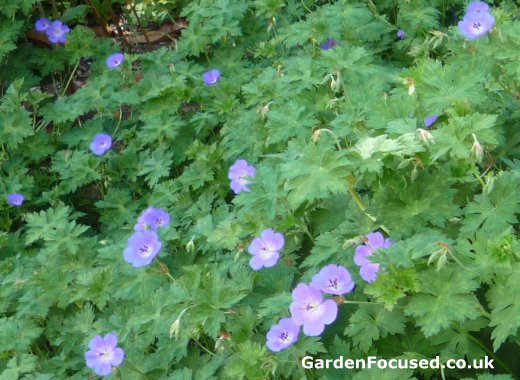 HOW TO DIVIDE GERANIUM ROZANNE
If, after five years or so, the number of flowers produced starts to decline, then it may be time to divide your Geranium Rozanne. The best time to do this is in Spring, April is normally about right.
Before dividing it, make sure the plant is well watered the day before. Trim off all the foliage and flowers (if any) to about 15cm / 6in from the rootball. Because these plants spread very easily you may well be surprised to find out just how small the rootball is.
Dig up the rootball with a fork keeping as many of the roots attached as possible. Then it's simply a matter of cutting the rootball into two or three equal parts. This can be done by prising it apart with your hands or literally cutting it with something like a hacksaw.
Replant each of the parts in their new positions to the same depth as the original plant and water in well. Don't feed until the plant has developed new leaves.
GROWING GERANIUM ROZANNE IN CONTAINERS
Geranium Rozanne plants are ideal for growing in containers. They flower for longer than the vast majority of other plants and shrubs. Their stems tend to droop nicely over the edges and the central part will provide a bit of height up to 50cm / 20in.
Because of their preference for a well drained but moist soil they will need to be watered regularly and good drainage holes in the pot or container are a must.
A 45cm / 18in wide container is about the smallest advisable. The larger the container the happier the plant will be it will require watering less frequently. A container 30cm / 12 in deep is fine but again, the deeper it is the less frequently it will need watering.
Feed your plant in spring and autumn with a good handful of fish blood and bone. It will also be beneficial to feed it once a month with a liquid plant food such as Miracle Gro or similar. Geranium Rozanne is fully hardy in the UK so frost will not be a problem even when grown in a container.
One nice container planting idea we have seen is to under plant with snow drops or daffodils. By the time your geranium wakes up from its winter rest the daffodils or snow drops will have died down. Another is to plant it in a hanging basket, ideal if you can manage to water daily.
PESTS AND DISEASES OF GERANIUM ROZANNE
Geranium Rozanne is very strong growing and in normal conditions is a pest and disease free. The few problems you might encounter are listed below.
VINE WEEVIL
This may be a problem with plants grown in containers but Geranium Rozanne is no more susceptible than other plants. See our page here for diagnosing and treating vine weevil.
MILDEW
Occasionally hardy geraniums can suffer from mildew, see our page for diagnosing and treating this problem.
HISTORY OF GERANIUM ROZANNE
Geranium Rozanne is a very recent variety only being introduced for sale in 2000. It was first discovered by Rozanne Waterer growing as a chance seedling in her garden in Kilve, Somerset during 1989.
What attracted her to the plant were the above average size of the flowers, the delicate colour and the long flowering period.
GERANIUM ROZANNE SUMMARY
Below we list the key strengths and weaknesses of Geranium Rozanne.
| | |
| --- | --- |
| HARDY | (to -22°C / -11°F) |
| | |
| CLAY SOIL | Yes |
| | |
| SANDY SOIL | Yes |
| | |
| DRY SOIL | No |
| | |
| SHADE | Yes, full or partial |
| | |
| EVERGREEN | No |
| | |
| EASY CARE | |
| | |
| SMALL GARDENS | Yes |
| | |
| POT / CONTAINER | Yes |
| | |
| FLOWERING | |
| | |
| FLOWER TIME | June to October |
COMMENTS / QUESTIONS LEFT BY OUR READERS
Date: 19 July 2021
From: Vince W
QUESTION: What plant would you recommend to plant along with Geranium Rozanne?

ANSWER: Geranium Rozanne is a spreading low growing plant and it can be quite  aggressive. It certainly overpowers some of my other low growing plants. So I would avoid planting other low growing plants. Having said that, it does not seem to object to being regularly pruned back.

Personally I have planted it alongside hybrid tea / floibunda roses and it works very well. Rozanne fills in all the unoccupied spaces at the base of the roses but is not strong enough to compete with them. I would use use it as a "fill in" plant at the base of other higher growing plants.

Date: 19 May 2020
From: Carole
QUESTION: Well meaning garden helper cut my plant to ground last autumn, now it is bushy but no flowers.

ANSWER: Rozanne will die down of its own accord in winter so I think little damage has been done. It may have been cut down a bit earlier than is best but I doubt it.

Depending on the climate in your area it may well only begin to produce flowers by early to mid June. So definitely don't give up on it for the time being.

Date: 10 July 2019
From: Carole
QUESTION: We have many lovely Rozanne geraniums in our landscape and I'm wondering if Rozanne geraniums be divided and given to my daughter?

ANSWER: Agreed, Rozanne are delightful plants. The good news is that Rozanne geraniums can easily be propagated by dividing them. Spring is the time I would choose but autumn is also good.

You can dig the plant up and split it into two or three pieces and replant. Or you can have a look on the surface for where it has rooted and pull off one of the roots and replant. Keep new plants well watered and out of direct sunshine until they have established.

WHY NOT LEAVE YOUR QUESTION / COMMENTS ABOUT THIS PAGE?
ENTER THEM BELOW. EMAIL ADDRESS IS OPTIONAL.
YOUR COMMENTS WILL BE ADDED ABOVE WITHIN A FEW HOURS.